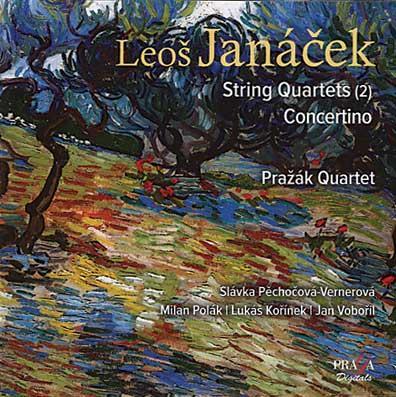 The Strad Issue: November 2014
Description: Another entrant into a crowded field that manages to make its own mark
Musicians: Prážak Quartet, Slávka PÄ›chočová -Vernerová (piano) Milan Polák (clarinet) Lukáš Korínek (bassoon) Jan Voboril (horn)
Composer: Janácek
Catalogue Number: Praga Digitals PRD/DSD 250301
Holding back from the overstated dynamics that have become prevalent in recent times in Janácek's quartets, the Prážak players seek to knit together the many changing moods that relate a story of love and murder through each of the First Quartet's four movements. That does mean some massaging of indicated tempo changes, and in this respect recalls the Smetana Quartet's 1960s recording that was for many years the unrivalled benchmark performance (Testament SBT 1074).
Janácek used much the same musical language for 'Intimate Letters', his personal story of unrequited love, and here the players allow the heart rather than the score's metronome markings to take control of tempos, at times rushing forward in tears, at others settling back to savour moments of past happiness. They adopt a wide dynamic range with some genuine pianissimos, though the moments of high drama stop far short of the Lindsay Quartet's trenchant and quite irreplaceable performance (ASV).
The disc is completed with the more seldom-heard Piano Concertino, a score that mixes the keyboard with six string and wind instruments in fascinating and unusual harmonies, each strand here so cleanly delineated in outstanding sound.
David Denton