German cellist Jan Vogler talks to Pauline Harding about music, literature and how a chance encounter led to an artistic collaboration with Hollywood legend Bill Murray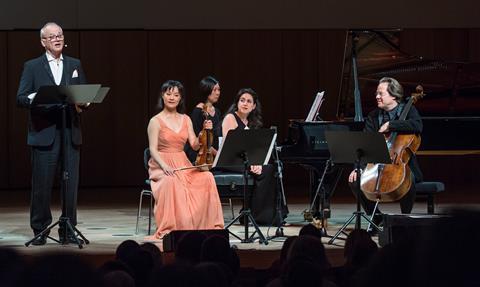 The following is an extract from The Strad's August 2017 issue cover story, featuring cellist Jan Vogler – download now on desktop computer or through The Strad App.
Above all, Vogler is a man who likes to share ideas and think outside the box – and that is what he did in 2013 when he found himself sitting next to Bill Murray on a flight from Berlin to New York. 'We really hit it off,' says Vogler. 'After that Mira and I would go to his parties and movie premieres, and he came to my concerts. He always said this project was my idea, but I think it was his. He planted it in my head!'
Perhaps, though, the project came from somewhere deeper in Vogler's psyche. Born in 1964 in East Berlin, he grew up in artistic isolation on the 'wrong side' of the Berlin Wall, where he initially studied cello with his father, Peter Vogler, and later Josef Schwab, Siegfried Palm and Heinrich Schiff, who died earlier this year. In 1984, aged 20, Vogler became the youngest ever principal cellist of the Staatskapelle Dresden.
As a result of all this discipline, a yearning had taken hold: as a teenager Vogler would sneak into a small theatre near his East Berlin home and dream of making friends in worlds other than his own. 'I grew up in a family of musicians,' he says. 'My parents would tell me how much you have to focus to become a classical cellist, to be truly, deeply in your field. But I always longed to know a great painter, a fantastic dancer – people who could inspire me on different levels.'
To read the full interview with Jan Vogler, download The Strad's August 2017 issue on desktop computer or through The Strad App.
Watch: a trailer for the New Worlds project featuring Jan Vogler and Bill Murray
Photo: Oliver Killig