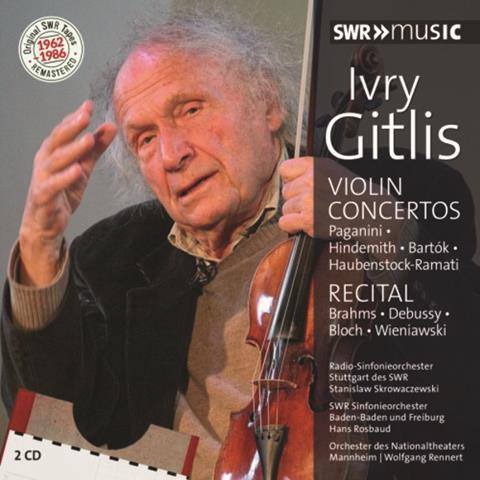 The Strad Issue: June 2016
Description: The two faces of Ivry Gitlis in recordings covering 1962–86
Musicians: Ivry Gitlis (violin) Daria Hovora (piano) Stuttgart Radio Orchestra/Stanislaw Skrowaczewski, SWR SO Baden-Baden/Hans Rosbaud, Orchestra of the National Theatre, Mannheim/Wolfgang Rennert
Composer: Bartók, Brahms, Bloch, Debussy, Haubenstock-Ramati, Hindemith, Saint-Saëns, Wieniawski
Catalogue number: SWR MUSIC SWR 19005CD (2 CDs)
With the impish Ivry Gitlis you never know who is going to turn up. Will it be Dr Jekyll the illuminator or Mr Hyde the terminator? The former rules throughout disc 2 but the latter renders disc 1 an almost total write-off.
In an interview in the booklet, Gitlis says that his 1953 recording of Hindemith's 1939 Concerto was hastily prepared. The 1962 radio version here is a vast improvement, even with slightly dim sound. The first movement has real authority, the Langsam is beautiful and the Lebhaft is delightful. From the same sessions, Roman Haubenstock-Ramati's Séquences, written for Gitlis, has ear-tickling sonorities and at twelve minutes does not outstay its welcome.
Bartók's Second Concerto is well recorded (in 1985) and most enjoyable. It is quite free in places but always in the Hungarian spirit. Paganini's Second, from 1972, has its moments, with Skrowaczewski getting lovely sounds from the Rossinian orchestration, but some of the soloist's Gitlis-isms are overdone; his vibrato catches the microphone in the Adagio and the bell is inaudible in the 'Campanella' finale.
I do not have space to detail the bizarre mood that Gitlis brings to a 1986 radio recital. Note values altered, inappropriate upward flicks of portamento, slovenly bowing – he cannot leave any phrase alone. Debussy's Sonata ends up like an over-rouged Parisian tart.
Tully Potter