Looking for that all-important orchestral job? Oregon Symphony violist Charles Noble provides some tips on how to impress the audition panel, in the first of two articles from July 1999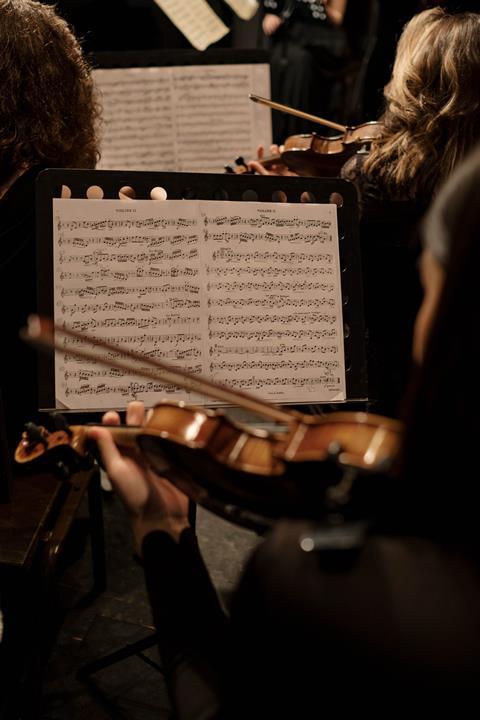 The professional symphony orchestra audition circuit is one of the most intimidating challenges facing today's violists. The number of open positions each year is far surpassed by the large numbers of extremely talented violists who graduate from conservatories and music schools. With each year that passes the playing level rises noticeably — the days when violists were second-class citizens of the orchestra are long over. The standards expected of auditioning violists are as stringent as those facing any other string player.
The first step in preparing for auditions is to become familiar with the orchestral repertoire. Visit your local library or record shop and listen to recordings of the standard audition repertoire. Listening to several different performances by different orchestras and conductors will help you determine the general aspects of interpretation, including tempos, articulations and dynamics. Obtain scores of the works that you're studying and follow the score as you / listen. Place the viola part in context with the rest of the orchestration. This will enable you to hear the entire context of the excerpt in your ear when you play the excerpt alone.
Commonly asked concertos or solos
Bach
Solo Cello Suites or Solo Violin Sonatas and Partitas Brandenburg Concerto no.6 f- (solo viola I)
Bartok
Concerto, either Serly or Dellamaggiore/Neubauer edition
Brahms
Sonatas In F minor and E flat major
Hindemith
Der Schwanendreher
Mozart
Sinfonla Concertante
Schubert
Arpeggione Sonata
Stamitz
Concerto in D major
Walton
Concerto
As valuable as they are, recordings alone will not provide enough experience with the repertoire. Attending live performances will give valuable clues about commonly used bowings for excerpt passages. In addition to having listened to the repertoire, a practical playing knowledge is essential. Use your school ensemble or freelance orchestral gigs to build this familiarity. Playing an excerpt passage with a live orchestra is invaluable - certainly an example of a picture being a thousand words.
When first learning the excerpts it is always valuable and advisable to have another pair of ears available to you. If you are still in school or are studying privately, your teacher can be your initial resource - especially if they are a member of a professional orchestra or have had a great deal of professional orchestral experience. If your teacher does not have the experience or inclination to coach you effectively on the excerpts, take part in an orchestral repertoire class at your school. Regular criticism is a crucial aspect of preparing your excerpts for performance. If you are no longer in school, seek out a prominent local professional orchestral player or a trusted colleague for coaching sessions, lessons or simply listening.
When asked what is required to win an orchestra audition, most people who have listened to many auditions will respond with 'dead-on intonation. A precise rhythm and a demonstrably superior musical sense'. Easy to say, hard to achieve, indeed! As you gain a working knowledge of the commonly asked excerpts, it becomes necessary to take a bit of time analysing them. Contrary to popular belief, excerpts are not always chosen on the basis of their being the most difficult passages.
Top six most most requested excerpts
Beethoven
Symphony no.5, second movement
Berlioz
Roman Carnival Overture
Mendelssohn
Scherzo from A Midsummer Night's Dream
Ravel
Suite no.2 from Daphnis et Chloe
Shostakovich
Symphony no.5, first movement

Strauss
Don Juan
The first task of the principal is to evaluate just what is wanted in an ideal candidate. In discussions with members of the viola section, the concertmaster and the music director, the principal will develop some basic criteria such as the following: the usual 'givens' of excellent intonation and rhythm; a rich and powerful sound with the ability to blend into the section sound; a mature sense of musical style; and a full control of technical issues of the left and right hands. With these guidelines in mind, an audition list is put together specifically to highlight these and other areas of the candidates' playing.
Most auditions will begin with a selection. Most often this will be a movement of unaccompanied Bach and/or one of the Big Three concertos: Bartok, Walton or Hindemith's Der Schwanendreher. More rarely the Mozart Sinfonia Concertante may be asked, as well as one of the Brahms sonatas or the Schubert Arpeggione Sonata.
For years the Boston Symphony asked for a movement of one of the Bach Solo Violin Partitas. In some cases you'll be asked to bring a selection entirely of your own choosing. In the preliminary round, the audition committee is looking for basic proficiency level in the various areas of technique. Often you will find the Mendelssohn Scherzo from A Midsummer Nights Dream, the fourth movement of the Mozart 'Haffner' Symphony, the beginning to letter D in Strauss's Don Juan and the section solo from the first movement of the Shostakovich Fifth Symphony. The committee is looking for solid, steady rhythm, centred intonation, good tone and an overall appropriate sense of musical style. By this I mean that the set of musical choices that you make in Don Juan should not necessarily be the same as for the 'Haffner' Symphony. This round gives the committee a thumbnail sketch of your playing. Most preliminary auditions will last between five and ten minutes, depending upon the size of the candidate pool.
Other commonly asked excerpts
Bartok
Concerto for Orchestra (rental part)
Beethoven
Symphony no.3, Scherzo
Symphony no.9
Brahms
Variations on a Theme by Haydn, var.5, 7, 8
Symphonies nos.1, 2, 3, 4 (nos.2 & 4 most common)
Mahler
Symphony no.10, Adagio (rental part)
Mozart
Overture to The Magic Flute
Overture to The Marriage of Figaro
Symphonies nos.35, 40, 41
Prokofiev
Symphony no.1 'Classical' (rental part) (most common)
Symphony no.5 (rental part)
Rossini
Overture to La Gazza Ladra
Smetana
Overture to The Bartered Bride
Strauss
Ein Heldenleben
Don Quixote (tuttl sections)
Also Sprach Zarathustra
Tchaikovsky
Symphony no.6 'Pathetique'
Wagner
Overture to Tannhäuser
If you've advanced to the semi-final round, congralulations! You've made the first cut. At this point the committee feels that your playing meets the minimum standards for the orchestra. By the semi-finals most orchestras have narrowed down the candidate pool to around ten to fifteen candidates. The semi-final round, therefore, will be a more in-depth exploration of your playing. Expect the excerpts to be more difficult in this round. Generally, they will be longer and more musically involved. Some typical semi-final round excerpts are the Introduction to Strauss's Don Quixote and rehearsal numbers 77-79 in Ein Heldenleben, the second movement of the Bruckner Fourth Symphony, the concluding 5/4 Dance in Ravel's Daphnis et Chloe and the opening Adagio of the Mahler Tenth Symphony, as well as excerpts included in the preliminary round. Semi-final auditions can last from ten to twenty minutes.
At this point, if luck and skill are with you, you've made it into the finals. This is a major accomplishment: the committee believes that you may be a person who they want in their orchestra. At this stage in the audition, the committee most often has narrowed the field down to five candidates or fewer. The music director will probably also be present. It's time for some of the most rigorous trials of the audition.
Some rarities to be aware of
Bach
Brandenburg Concertos nos.3 & 6 (viola I part)
Bartok
Music for Strings, Percussion and Celeste (viola I part) (rental part)
Suite from The Miraculous Mandarin (rental part)
Mahler
Symphony no.5
Sibelius
Symphony no.3
Stravinsky
Suite from The Firebird
Dumbarton Oaks Concerto (rental part)
In the final round the candidate is faced with a complete battery of excerpts from the previous two rounds. More obscure portions of the required repertoire may be asked for, and you may be expected to sightread at this point. Some music directors will like to conduct candidates through excerpts, though it's a relatively rare occurrence. Some orchestras will have candidates play a prepared movement of a chamber work with other members of the orchestra. This round will be the longest, often with audition segments lasting from 30 to 45 minutes on occasion. 'Call backs' may occur at this stage, if the committee is deadlocked over two or three candidates. Each candidate will be called back to the stage to perform further excerpts until the committee reaches a decision. Some orchestras will choose to invite two final candidates to play services with the orchestra before making the final choice. This is most common in principal auditions.
In my own experience of both taking and listening to auditions I've found that there are some frequently asked questions concerning audition etiquette. Here are the answers I've come up with, based upon my own experiences, conversations with many audition candidates, audition committee members and personnel managers of US orchestras.
'Will I get my own warm-up room?'
This varies from site to site. Some orchestras will receive all candidates in a common warm-up room (frequently referred to as the 'cattle call; where they will wait for their turn to go on-stage. Others give you your own warm-up room upon arrival. This is clearly the more humane and preferred approach, but limitations of space audition site can make this impossible. The common compromise is to have a central waiting area, with an 'on deck warm-up room for the candidate waiting to go on-stage.
'Who is on the committee?'
This can vary orchestra to orchestra. Oregon Symphony is a typical example: each of the string principals, two members from the section involved and two at-large players from the rest of the orchestra. In the finals, the music director is also in attendance. Committees vary in size from seven to thirteen members. Some orchestras allow any interested orchestra member to observe certain rounds of the audition. A few orchestras, such as the Berlin Philharmonic, hold auditions in front of the entire orchestra.
'Will I be able to see the audition committee or vice versa?'
This can also vary. Some orchestras, such as the Cleveland Orchestra, have a totally open audition process in winch neither the candidate nor the committee is situated behind a screen. More usually, the preliminary and semi-final rounds will be held behind a screen and the finals will be in the open. A few orchestras keep the screen up for the entire audition, especially if a member of the section is auditioning for a higher chair. The screen exists to protect the anonymity of the audition candidate, preventing discrimination in the early rounds of the audition.
'Will I be alone on-stage?'
Generally speaking, no. The personnel manager or their associate will be on-stage to guide you through the excerpts in the correct order. In addition, if you are behind a screen, they will take any whispered questions you may have and relay them to the committee.
'Will I have to sight-read at the audition?'
Be prepared to do so. Many orchestras are looking for a degree of experience in their candidate. Sight-reading of standard repertoire is a good way to gauge familiarity with the repertoire, as well as 'thinking on your feet' skills. If you don't have a lot of orchestral experience, excellent sight-reading skills can partially compensate.
If you are not a strong sight-reader, don't worry: good sightreading is a learnable skill. Every day, pick up a piece of music (orchestral, chamber or solo repertoire) and just play through it. Don't allow yourself to stop to correct mistakes. Your sole aim should be to get through the piece. .After you've done this, stop and evaluate what you just played (having a tape recorder available is a very good idea). Look at the trouble spots and mentally go over what is on the page versus what you actually played. Go back to the beginning and play through the section again, as before, without allowing any corrections or stops. This process will do two things. First, it will get you used to the idea of not being able to stop and correct your mistakes.
Generally, when sight-reading at an audition you will be given a chance to play the entire excerpt again if you wish, but stopping to correct mistakes during a play-through is frowned upon. Second, it will hone your technical triage equipment. When sight reading, you need to be able to assess quickly difficult technical passages, meter changes and the like. Being able to assess all of this before you begin playing is what truly makes for a formidable sight-reader.
'What if something goes terribly wrong during my audition?'
It depends what you mean by terribly wrong. If a string breaks or there is some other equipment problem, you will usually be allowed to leave the stage, rectify the problem and return later in the round to play your audition. If you've made a terrible mess of your last excerpt, take a deep breath, pause, and play the excerpt again. If you're unsure about repeating an excerpt, ask the personnel manager on-stage to query the committee.
'Should I borrow a better instrument for my audition?'
This is a subject of considerable controversy in some orchestras. For many of the upper-echelon US orchestras, it is a relatively common practice to secure a superior instrument for an audition. Keep in mind that while a superior instrument makes the most noticeable difference in the area of tone and dynamic range, a better instrument will not make you play more in tune or with better rhythm or musicality. Some orchestras place a premium on sound quality and feel that candidates who play on an instrument other than their own are being dishonest. You may wish to ask around about a particular orchestra's attitude on this issue.
'I get very nervous when auditioning; should I use a drug such as a beta-blocker?'
This is another subject of considerable controversy. There certainly are musicians who suffer from such severe effects of stage anxiety that a chemical solution seems the only choice. There are many helpful alternatives to drugs such as hypnosis, relaxation techniques and bio-feedback. Start by asking your healthcare provider about the various therapies available. Any drug can have harmful side-effects or interactions of which you may not be aware. For this reason, never under any circumstance take a drug such as Inderal without having it prescribed for you by your own physician.
Finally, it's important to realise that taking auditions involves a unique set of skills. As you gain more experience taking auditions, the process will get easier and your progress will improve dramatically. Many- people I know have won jobs after a concentrated run of auditions within a relatively' short period of time.
Taking an audition is much like running in a marathon. Proper pacing and familiarity with the course are essential to success. Most people don't win the first race they enter, either. Success comes after thorough preparation, repeated attempts and with a sincere desire to win. The most common attributes of audition winners are discipline and perseverance. Best of luck on your audition journey!
Orchestral solo excerpts (for principal positions)
Adam
Giselle (usually asked for ballet orchestra auditions)
Delibes
Coppelia (usually asked for ballet orchestra auditions)
Enesco
Romanian Rhapsody no.1
Ginestera
Variaciones Concertantes (rental part)
Kodaly
'Lied' from Háry János Suite (rental part)
Ravel
Ma Mere I'Oye
Strauss
Don Quixote
Vaughan Williams
Fantasia on a Theme by Thomas Tallis
In the next article, Charles Noble examines the 'Big Seven': detailed advice on how to approach the most commonly asked orchestral excerpts
Opinion: Dare to be different
1

2

3

4

Currently reading

Auditioning advice: Position vacant

5

6

7