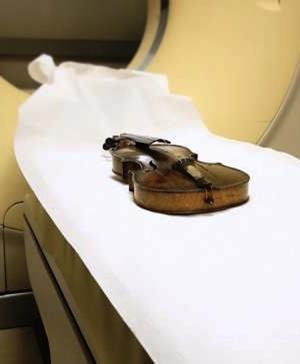 A violin thought to have been played during the sinking of the RMS Titanic has undergone a hospital CT scan to determine its age and condition. The research, commissioned by auctioneers Henry Aldridge & Son, showed that the instrument had been damaged and restored.

Radiographer Astrid Little of the BMI Ridgeway Hospital in Swindon, UK, said: 'The scan revealed that the original wood was cracked and showed signs of possible restoration.' The construction, interior and glue used to hold the violin together was also examined. Neither Little nor the auctioneer, Andrew Aldridge, was available for further comment.

In March, the violin was presented as genuine by the auctioneers after an examination by Bath-based dealer Andrew Hooker. He estimated its date as between 1880 and 1900: based on a Maggini model, it was probably made in a German factory, possibly in Markneukirchen or Klingenthal. It has a spruce front and maple back. No maker's label has survived, although the violin bears a silver plate on the tailpiece, with the inscription: 'For Wallace on the occasion of our engagement from Maria.'

The evidence unearthed by the auctioneers appears to show that Hartley put the violin inside a leather Gladstone-type bag, which he then strapped to his body before the ship sank. Forensic analysis showed some evidence of salt-water corrosion, and the metal screws on the tailpiece's silver plate appeared to have been exposed to sea water over time.
Photo: courtesy BMI Ridgeway Hospital, Swindon