Questions to help you find the right course and to prepare you for life as a student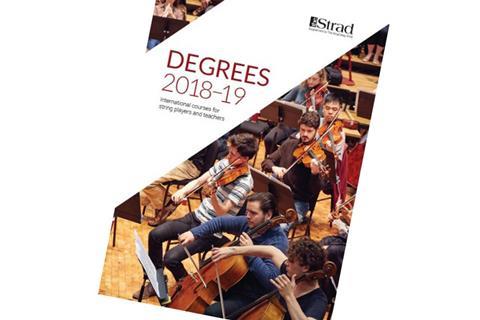 Degrees is The Strad's international guide to further education for string players. It is a free supplement with The Strad May 2018 – to see it in full, download the issue on desktop computer or via the The Strad App, or buy the print edition
MANAGE YOUR OWN EXPECTATIONS
What are your goals?
What opportunities will you want to pursue after your degree? Many people assume that all courses are equal and do not consider this important issue. Take advice where it is offered and discuss options with your teacher.
GET INFORMED
What type of institution would you prefer — a college, conservatoire or university?
Would you get more from a specialist music institution or a university with a broader curriculum?
Are the right balance of specialities provided? Every institution offers its own collection of study paths. Some will allow you to concentrate on one specific area, such as performance or composition, and others will allow you to balance several.
What qualification do you want? Check also that you have the right qualifications for entry.
Who would you like to study with?
Where would you like to study? Research the area: investigate the local music scene, check accommodation and travel options, and ensure that your course is conducted in a language you understand!
Are there any open days that you can attend?
When is the deadline for applications?
When are the auditions?
What are the audition requirements? Check the repertoire options.
What are the language requirements?
PREPARE YOURSELF FOR STUDY
Do you need a visa? Many countries require travel documents to be valid for a year after the end of a course.
Are any grants, bursaries or scholarships available? Check for possible government funding, options within the institution, and private funding bodies.
Can you support yourself? Plan your finances ahead, especially if you will be using an unfamiliar currency.
If studying abroad, do you need to register with a new bank?
Do you need to register with a doctor and dentist?
Does your place of study require you to register with the police, or with your embassy?
Will your place of study help you to find accommodation?