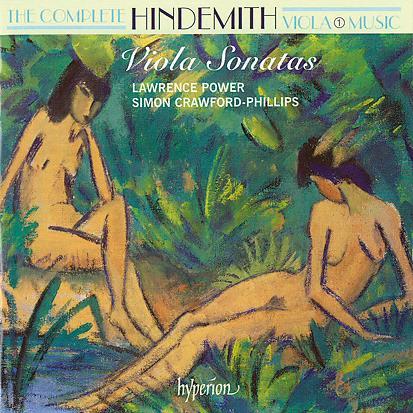 The Strad Issue: January 2009
Musicians: Lawrence Power (viola) Simon Crawford-Phillips (piano)
Composer: Hindemith
Paul Hindemith wrote his viola compositions for his own use as a concert artist. Accordingly, they reflect his personal playing style, one characterised by a taut rhythmic sense and the avoidance of any expressive extravagances. Hindemith's own recording, with pianist Jesús María Sanromá, of the '1939' Sonata (Biddulph) is an indispensable interpretative model. Interestingly, Sanromá also recorded Hindemith's earlier Sonata op.11 no.4 with William Primrose (also Biddulph), a player whose diametrically opposed style is equally convincing in this piece of a more Romantic hue. Lawrence Power (winner of the 1999 Primrose Competition) is a player in the great Scot's tradition, consistently pouring forth a gorgeously sensuous sound. Power's tone is undeniably more beautiful than Hindemith's ever was, and of course the recording quality is up to Hyperion's excellent standards, faithfully reproducing his every nuance: listen out for the delicious, Kreisler-like glissando into var.5 of op.11 no.4 (2:20 into track 7). Power's style seems more attuned to this sonata, with its faux folk-song strains and Impressionist harmonies, than to the rhythmically obsessive later pieces, where his quest for expression results in some ungainly slides and bulges. The potentially clangorous piano parts are safely in Simon Crawford-Phillips's careful hands.



Carlos María Solare