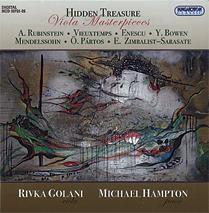 THE STRAD RECOMMENDS
The Strad Issue: January 2013
Description: A generous, wide-ranging viola collection from an eloquent player
Musicians: Rivka Golani (viola) Michael Hampton (piano)
Composer: Rubinstein, Vieuxtemps, Enescu, Bowen, Mendelssohn, Pártos & Zimbalist
This well-recorded pair of CDs is a wonderful testimony to Rivka Golani's passionate musicianship. Additionally, it presents a neat conspectus of Romantic and post-Romantic viola music, from Mendelssohn's teenage Sonata of 1824 to Zimbalist's Hispanic melting-pot Sarasateana, written in the 1940s for William Primrose. Wisely not attempting to ape that great virtuoso's unique panache, Golani surmounts the music's many challenges with aplomb, never compromising the quality of her beautiful dark tone. The other overtly virtuosic piece here, albeit one of a more songful character, is Enescu's Konzertstück, written in 1906 as a test piece for the Paris Conservatoire. Its numerous chromatic runs are perfectly clear in Golani's hands, her double-stops ringing out triumphantly in the second subject.
Listening to Bowen's Phantasy, written for Lionel Tertis in 1918, it is hard not to think of the composer's nickname, the 'English Rachmaninoff': the build-up to the final peroration and the richness of the piano part throughout strongly recall the Russian's decadently overwrought style. Here, as well as in the three bona fide sonatas – by Mendelssohn, Rubinstein and Vieuxtemps – the thoughtful pianism of Michael Hampton comes to the fore. Be it in the light-footed, Classicist runs of the Mendelssohn or in the more meaty music of the later composers, Hampton always finds the right touch and is considerate of his partner.
Ödön Pártos's In memoriam, an elegiac composition written in memory of the Holocaust's victims, is played in a reduction from the original for viola and strings. For this piece, Golani – a student of the composer – finds her most eloquent tones in a heartfelt rendition.


Carlos María Solare