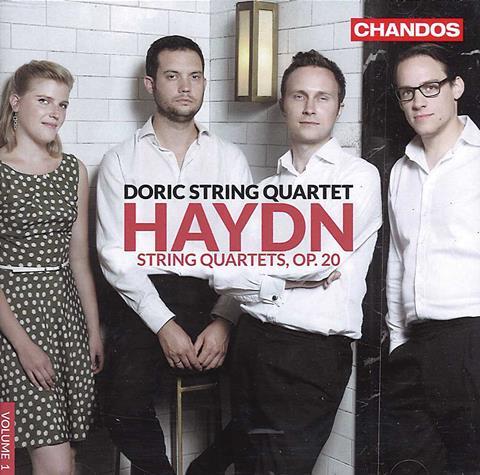 The Strad Issue: January 2015
Description: Modern-instrument Haydn performed with period sensitivities
Musicians: Doric Quartet
Composer: Haydn
Listening to the Doric Quartet's excellent op.20 set, one is struck by Haydn's inventiveness. This is indeed visceral and subversive music, and this admirable group brings out all these tendencies beautifully. As I suggested in respect of the Doric's Schubert disc (Chandos, reviewed December 2012), it is always good to hear a compelling invocation of historical sonorities, and on instruments set up in modern fashion. Quite how much of this aesthetic paradigm would have been familiar to Haydn himself is hard to say, but this hardly matters. It is clear that the accolades received by the quartet (including winning the 2008 Osaka chamber music competition) are due to the communicative effectiveness of its playing, rather than obeisance to any notion of historical 'correctness'.
All six quartets are delivered with aplomb and consistent virtuosity, as demonstrated in the first movement of no.3. Period sonorities – sparing vibrato and, indeed, even some well-chosen portamentos – seem to be well integrated, as in a prominent first violin slide in the second movement of no.1, although it's a shame that it is repeated twice identically. This said, playing without vibrato can result in a 'flautando' sound which is an erroneous modern assumption and can create rather watery sonorities, as at times in the second movement of no.6. Sometimes, too, one yearns for a bit more forward propulsion as in no.2's first movement – accelerandos balancing endemic expressive ritardandos – but these are minor caveats on an otherwise highly rewarding pair of discs.
DAVID MILSOM