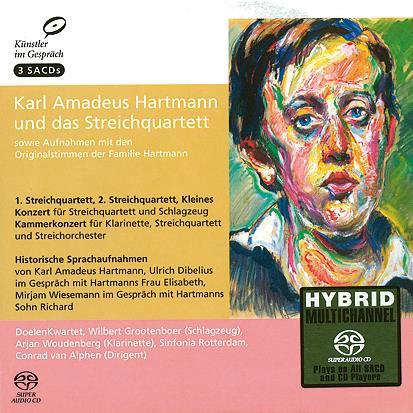 The Strad Issue: January 2010
Musicians: Doelen Quartet, Arjan Woudenberg (clarinet) Wilbert Grootenboer (percussion) Sinfonia Rotterdam/Conrad van Alphen
Composer: Hartmann
String enthusiasts are most likely to know Karl Amadeus Hartmann (1905–63) for his Concerto funèbre (1939) for violin and strings, a key work of the Munich-based composer's self-imposed internal exile and 'confessional period' during the twelve years of the Third Reich. His two numbered string quartets date from each end of that era, and together with the two chamber concertos from the early 1930s confirm him as a creator of integrity and moral purpose.
Quartet no.1 won the Belgian Carillon Prize in 1936 (its subtitle refers to this rather than any musical qualities) and together with the Second (1945–8) shows the unmistakeable influence of Bartók. But there's also a major component of found material, since one of his acts of resistance was to make a point of borrowing from musical sources proscribed by Goebbels and his ilk, not least Hebraic melody and workers' songs. In both works, the Rotterdam-based Doelen Quartet reveals a well-formed sense of ensemble and plenty of character among the individual players – these are heartfelt performances that convey Hartmann's trademark mix of virility and melancholy with real insight.
In the Chamber Concerto, Klezmer and folksong are interweaved with distinct allusions to the Hungarian style of Kodály (the work's dedicatee). Despite the suggestion of concertante strings in the title, this is really a clarinet concerto with multi-textured string accompaniment and is ably played by Wilbert Grootenboer. Of all the works here, the Little Concerto sounds most redolent of Weimar Germany and the New Objectivity of Hindemith and Weill; it comes across vividly in this exuberant and well-paced performance.
It should be noted that the music takes up only about 85 minutes of this set: the rest is devoted to recorded interviews with the composer, his widow and his son. Unfortunately, there's no translation for non-German speakers, though the admirably bulky and informative booklet is bilingual down to the last picture caption. Recordings are spacious and well-balanced.



Matthew Rye