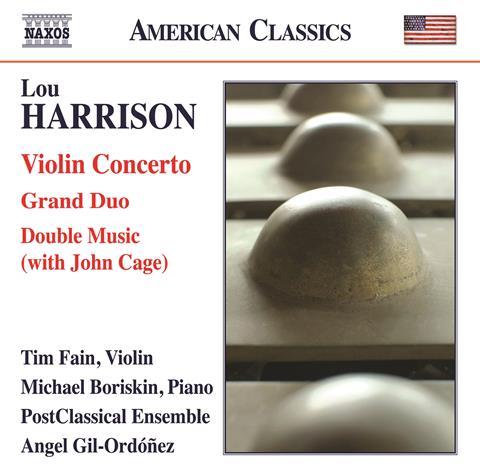 THE STRAD RECOMMENDS
The Strad Issue: July 2017
Description: Sonically delightful music that runs the gamut from gamelan to Renaissance
Musicians: Tim Fain (violin), Michael Boriskin (piano), PostClassical Ensemble/Angel Gil-Ordóñez
Composer: Harrison, Cage
Catalogue Number: NAXOS 8.559825
For a composer so deeply immersed in world musics – above all Indonesian gamelan – as well as in medieval and Renaissance music, Lou Harrison clearly had a soft spot for big Romantic gestures, as ably demonstrated by the two major works on this thoroughly rewarding disc. And that's where Tim Fain comes entirely into his own, too – in Harrison's long-limbed, powerfully expressive melodies, where the US violinist entirely inhabits the music, mining it for every last drop of expressive potential.
The Concerto for violin and percussion is not only a sonic delight, with New York's PostClassical Ensemble clattering its way through Harrison's inventive percussion-only backdrop with enormous suppleness and sensitivity to its subtle colours. In the hands of Fain, it's also a compelling, deeply human experience: he's beautifully breathy, almost faltering in the exotic, meandering melodies of the slow movement, and brings a wonderfully raw edge to his fiery passion in the finale.
He attacks the expansive Grand Duo with all the Brahmsian intensity it calls for, using judicious portamento and a thick, narrow vibrato, and brings a nice sense of mischievous humour in its perky closing Polka. It's such a vivid account, in fact, that pianist Michael Boriskin struggles to match Fain's energy. By contrast, the PostClassical players sound strangely mechanical in Double Music, composed jointly by Harrison and John Cage. Nevertheless, it's a fascinating, engrossing disc that showcases not only Harrison's disarming Romanticism, but also Fain's deeply committed playing.
David Kettle