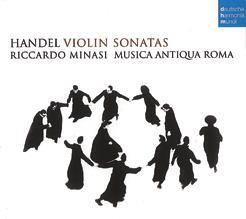 The Strad Issue: January 2012
Description: Some rather over-wrought solo playing is mitigated by a skilled continuo team
Musicians: Riccardo Minasi (violin) Musica Antiqua Roma
Composer: Handel
These dramatic, extrovert performances will either delight or displease. Riccardo Minasi is a creative violinist, whose contribution is strong in imagination and personality. His sense of style matches his technical command and the wide range of tonal colouring that he lends to these eight sonatas accentuates their diverse and richly vibrant character. His extremes of tempo and his inventive approach to ornamentation will not be to everyone's taste. Some of his tempos adversely affect articulation and phrasing, as in the opening Allegro of HWV358, some of his florid embellishment disturbs the pulse, as in the Adagio of HWV359a, and some distorts the prevailing melodic line or harmony, as in the opening Andante of HWV361. Further, his occasional over-excitement results in tonal roughness, notably in the two express Allegros of HWV364a or that of HWV371. Nevertheless, there is something about his playing that makes for compelling listening.
Minasi is supported by a superb continuo team (cello, lute, harpsichord) which offers a range of solo and ensemble colours and plays with outstanding technical and musical proficiency, adding extra layers of depth, excitement and embellishment to the cause. An arrangement of a melancholy aria from Alcina is included as a bonus track. The recording is amply resonant and well balanced.



ROBIN STOWELL