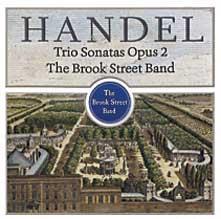 The Strad Issue: January 2014
Description: Uneven results in a survey of Handel's chamber pieces
Musicians: Brook Street Band
Composer: Handel
Capitalising on the sales-friendly flexibility of instrumentation implicit from the title page of Handel's op.2, the Brook Street Band varies the constitution of its ensemble for sonatas nos.1 and 4, substituting respectively a flute and recorder for one of the violins. However, this disc is only a qualified success.
The performers negotiate the six sonatas' mix of new and recycled movements in competent, workmanlike fashion, ornamenting mostly stylishly, but their accounts are uneven. Violinists Rachel Harris and Farran Scott blow hot and cold, particularly in the fast movements, which beg crisper and more consistent articulations, greater energy and rather less genteel passagework. They and guest-flautist/recorder player Lisete da Silva could have no better model than cellist Tatty Theo's consistently buoyant playing, even if she and harpsichordist Carolyn Gibley often seem over-prominent in the balance, usually at the expense of the second melodic part.
The slow movements feature some beautifully lyrical interplay, particularly the first movements of nos.3 and 6 and the third movements of nos.1 and 5, but balance problems result in the suspensions of no.2's Largo being ineffectual. The recording otherwise has clarity and warmth. A bonus track – a familiar, re-jigged Handelian Passacaille – acts as a curtain call for all participants, with Harris 'upsizing' to viola.
Robin Stowell