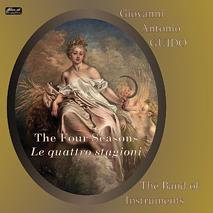 The Strad Issue: January 2013
Description: A welcome change from the ubiquitous Vivaldi concertos
Musicians: Caroline Balding (violin) Band of Instruments/Roger Hamilton
Composer: Guido
With recordings of Vivaldi's Four Seasons still dominating the catalogues, it is refreshing to hear another composer's take on a similar idea, his work likewise inspired by poetry and prefaced by poetic phrases that are illustrated in the music. Indeed, Giovanni Guido's inventive 'Scherzi armonici sopra le quattro stagioni dell'anno', which more closely resemble French suites than Italian concertos, may pre-date his more celebrated compatriot's op.8 concerto set.
This small-scale ensemble's one-player-per-part policy creates a bright, clearly defined texture in which nobody can hide, and tone is occasionally raw and intonation sometimes suspect. Nevertheless, Caroline Balding and her colleagues bring commendable agility, shape and energy to their performances, incorporating affecting dynamic nuances and demonstrating close empathy with the music's rhetorical language, as in the musette and the dance of the shepherds (Spring). The reapers' dance (Summer) is also well characterised, along with a storm that, however, fails to match Vivaldi's for power or dramatic effect.
The shouts and laughter of the inebriated and the soporific after-effects are deftly conveyed, as are the succeeding hunt and the death of the stag (Autumn) and the frosts and cold winds of Winter. The recording, dating from 2004, seems over-reverberant, giving an impression of false and excessive spaciousness.
ROBIN STOWELL