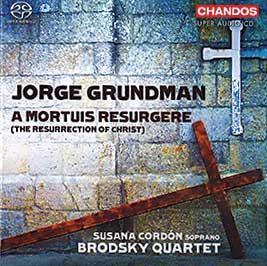 The Strad Issue: January 2014
Description: Neither work nor performance make a convincing case for themselves
Musicians: Brodsky Quartet, Susana Cordón (soprano)
Composer: Grundman
A little of Jorge Grundman's The Resurrection of Christ goes a long way, at least on this disc. Based on St John's Gospel, it is a chamber oratorio for soprano and string quartet designed as a companion piece to Haydn's Seven Last Words – picking up from the Crucifixion and leading to the Resurrection.
Grundman's background spans an early career in pop groups, studies in music, computing and sound engineering, and compositions taking in New Age electronica and music for film and TV – but his creative ethos is now simply 'to tell stories through the music narrative' and to do this by simple means. The means are certainly simple here: the harmonic plan is basic and repetitive, overlaid with endlessly recurring motifs and indulgent vocalises, presenting very little dramatic shape – so that the Credo and the concluding Hosanna are largely coloured with the same generic brush.
There's little here to test the Brodsky Quartet technically, yet the players do not sound at one with the music, as if hesitant to give it the full radiance and tonal sweetness that might make it more convincing. Capable as the recorded sound is, this is a piece designed for a cathedral acoustic and setting – listening to this studio-like rendering, it's hard to remain engaged for long.


Edward Bhesania