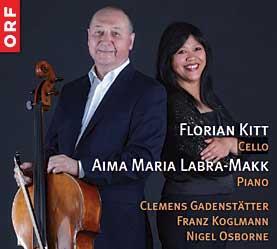 The Strad Issue: March 2015
Description: Contemporary works performed by their committed dedicatee
Musicians: Florian Kitt (cello) Aima Maria Labra-Makk (piano)
Composer: Gadenstätter, Koglmann, Osborne
Bursting/splitting is the usefully if uncomfortably graphic title of Clemens Gadenstätter's 25-minute work of 2012, apparently divided into four sections. Coherence is hard to establish from much col legno action and a gnomic, poorly translated note, though the composer's website helpfully points to 'the polymodality of hearing' as a potential subject.Whether or not intentionally aching with postmodern irony, Days of Yore (2003) arrives as sweet relief, gently echoing with Franz Koglmann's jazz and crossover background. If not more substantial, Nigel Osborne's two sets of musical diaries are more musically satisfying character pieces, easily relatable to their cited inspirations in Roma culture – among them children singing, bells and drink – but no less enjoyable for a listener trailing somewhat abstractly in Osborne's east-European paths.
All the music on the disc was written for Florian Kitt, and in the Roma Diaries it's possible to discern more than his commitment to the cause and formidable technical command: having worked for years with Osborne, he has a finely judged ear for sounds and types of folk culture that prevents them from becoming garish picture postcards. The Austrian radio sound is honest, if a little distant.
PETER QUANTRILL