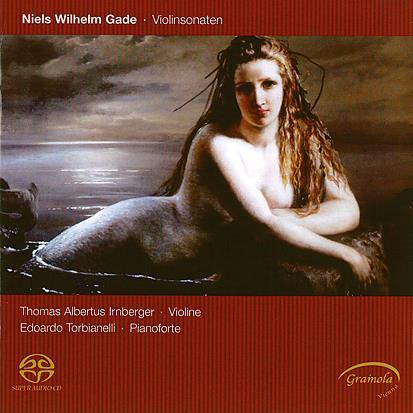 The Strad Issue: January 20101
Musicians: Thomas Albertus Irnberger (violin) Edoardo Torbianelli (fortepiano)
Composer: Gade, Schumann
I was surprised to discover that New Grove rates Niels Wilhelm Gade (1817–90) as the most important Danish composer of the 19th century, as he's so rarely, if ever, heard in the concert hall.
These three sonatas set out his credentials – a gift for ravishing melodies and the most lyrical and characteristic of writing for both instruments. The brooding, tumultuous side of the music – in the opening allegros of the First and Third Sonatas, in particular – has a textural and melodic flavour of Brahms about it, despite being written 30 years earlier, though it never comes close to the later composer's developmental complexity.
The singing, brilliant tone of violinist Thomas Albertus Irnberger is perfectly suited to Gade's style, and is complemented by the players' choice of a subtly toned and expressive 1846 fortepiano, made by Johann Michael Schweighofer. Irnberger shimmers up and down the virtuosic, accompanying arpeggiations of which Gade is fond – pianist Edoardo Torbianelli does, too, with equal aplomb.
Phrasing is gorgeously long-limbed and graceful, and the rapport between the players gives this music the sensitive reading it needs, aided by the detailed and vivid sound recording. Irnberger is adept at varying the intensity of his vibrato, and in more reflective moments the phrases seem to drift into the air. This is music of allure and charm that deserves a wider audience.


Catherine Nelson