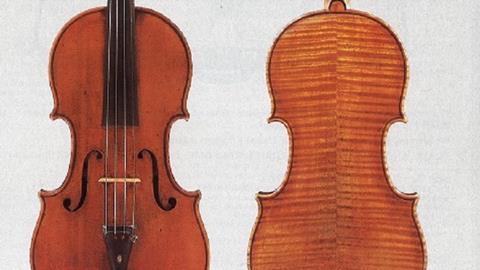 This illustration of a 1695 violin by Antonio Stradivari [the date has since been corrected to 1693] was published in The Strad, June 1985. The following text is extracted from the article accompanying the photographs
The Shrine to Music Museum [now named the National Music Museum or 'NMM'] in South Dakota has bought the extraordinary Witten collection of instruments, including a fine violin by Antonio Stradivari. Dated 1695[3], the violin is one of Stradivari's so-called long pattern violins. Known as the 'Harrison' it is specifically mentioned and illustrated in the Hills' 'Antonio Stradivari: His Life and Work 1644-1737' as being one of the finer examples of the 'long Stradivari'.
The instrument is extremely well documented and its known history dates back prior to 1800, when it first appeared in England, probably having been taken there by an Italian musician. Amongst its many famous owners were John Betts, Richard Harrison, whose name is associated with this and several other fine Stradivaris, and more recently Kyung Wha Chung, from whom the Shrine [now the NMM] purchased the instrument through the Chicago firm of Bein & Fushi.
It is one of the few examples of the master's work which retains its original neck and, although this has been blocked out at the root, it adheres sufficiently, a hallmark of the Witten-Rawlins collection.