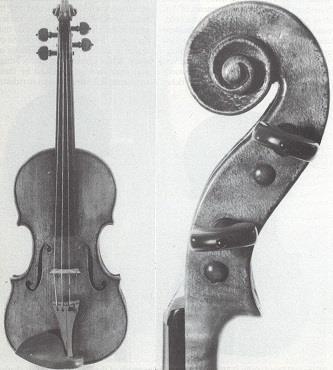 This illustration of a violin by Guarneri 'del Gesù' was published in The Strad, December 1987. The following text is extracted from the article accompanying the photograph:
Guarneri 'del Gesù' drew together all the strands of Cremonese and Brescian makers, and with great force of character, created another style of work, reaching his best in the 1740s, after the death of Stradivari. He worked in an inspirational rather than studied manner, and was to violin making what Caravaggio was to painting.
The 'Adam' Guarneri 'del Gesù' was from the maker's mature period (1738). Note the long, open curve of the middle bouts and the comparatively narrow outline. F-holes are elongated with similar sized top and bottom circular holes, reminiscent of Gasparo da Salo. the Cavalier workmanship and beautiful wood and varnish combine to exciting effect.