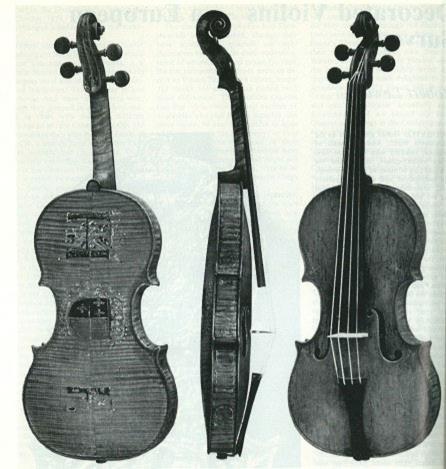 This illustration of a violin by Antonius and Hieronymus Amati was published in The Strad, April 1983. The following text is extracted from the article accompanying the photographs:
Decorated violins are as old as the instrument itself. Andrea Amati of Cremona, credited with being the first known violin maker, embellished the back and ribs of many of his instruments with inscriptions and attractive pattern work. Music making was a necessary part of aristocratic entertainment, the violin becoming an popular newcomer bespoke by wealthy patrons who appreciated visual as well as aural charms, and it became customary to dedicate the instrument with complimentary inscriptions suitably adorned.
The instrument illustrated by Antonius and Hieronymus Amati dates from 1595 and was included in the Lyon & Healy Rare Old Violins catalogue of 1922 with its inscription quite intact. The back is ornamented with the coat of arms of Henry IV, King of France and Navarre; the sides are inscribed similarly, and the wording inside indicates that the decor was the work of pupils of the Amati's. Exceptionally the complete provenance of this instrument is known, something that rarely happens with ancient violins.