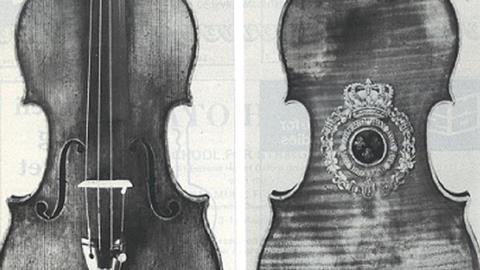 This illustration of an 1816 violin by Nicolas Lupot was published in The Strad, January 1986. The following text is extracted from the article accompanying the photographs:
This violin, which was begun in 1815, was completed in 1816 and awarded as a premier prix in 1818. The recipient was Joseph Clavel, who studied at the Paris Conservatoire with Rodolphe Kreutzer. He later became first violin at the Opera Italienne and in 1830 transferred to the Grand Opera.
An eagle above the brand on the violin's interior seems to be totally unrecorded in relation to Lupot. This bird of prey with its conjoined wings has a coronet on its head and is almost entirely French in origin; similar figures and variations can be traced back to Charlemagne in the 8th century. Perhaps this was Lupot's way of giving expression to his country's roots and origin.
Lupot placed his soundholes as Stradivari did in so many of his later productions; however Lupot placed them very slightly farther apart, no doubt to achieve a larger vibrating central area. The premier prix violin of 181, whose measurements relate almost exactly to two Stradivaris dating 1720 and 1732, is a good example of Lupot's thinking in this matter. This instrument also embodies an example of Lupot's meticulous methods which are to be found in the planning of the lower soundhole wings. These wings start by being 5mm thicker than the surrounding wood, enabling the fluting to be made without introducing a weakness to this vulnerable area.
The claim that Lupot uses whalebone for his purfling is not born out by this premier prix violin, which has purfling comprised of two white woods stained black and probably natural poplar from the centre.
The rim is of gentle proportions, and arching on the top plate rises immediately from the purfling, resulting in a vibrating area of medium height that is robust and virile.