The Strad's editor Charlotte Smith introduces the February 2020 issue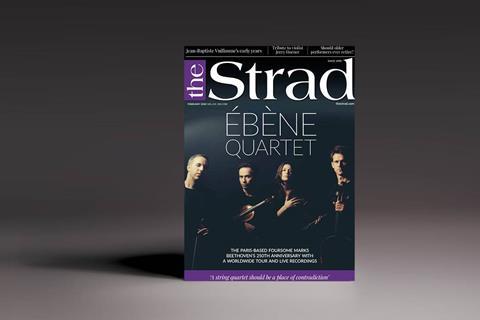 Beethoven's 250th anniversary in 2020 is, for so many artists, the perfect reason to celebrate the composer's trailblazing contribution to the world of classical music. The Ébène Quartet is no exception. The French ensemble, known equally for jazz as well as classical performances, has seized the opportunity to record Beethoven's complete string quartets, drawing attention to their international and contemporary appeal as they do so. Not content with picking a single recording studio, the group has travelled the world during its 2019-20 concert season, recording the works in seven different countries. The tour has also provided them with the chance to introduce Marie Chilemme as the quartet's permanent violist. On page 28 the players speak to Charlotte Gardner about the difficult process of replacing an integral member of their ensemble, and about the exciting new period of growth ahead.
While artistic challenges are par for the course during the career of a musician, the question of whether to retire from performance in later life can be one of the most complicated decisions. For some, the idea is unthinkable, while for others, leaving the stage while at the top of their technical game is of paramount importance. Pauline Harding speaks to a range of string players at different stages in their careers on page 60 to get to the heart of a deeply sensitive and personal topic.
Elsewhere in this French-themed issue we examine the early development of Jean-Baptiste Vuillaume. Though the luthier is highly regarded – and with over 3,000 known instruments bearing his name – his formative years are sketchily understood. Jonathan Marolle seeks to rectify this on page 34 with a close examination of six of Vuillaume's early instruments, all of which make the case for the Frenchman's great skill as a craftsman and artist.
Email me at thestrad@thestrad.com or tweet @TheStradMag