The Strad's editor Emma Baker introduces the May 2023 issue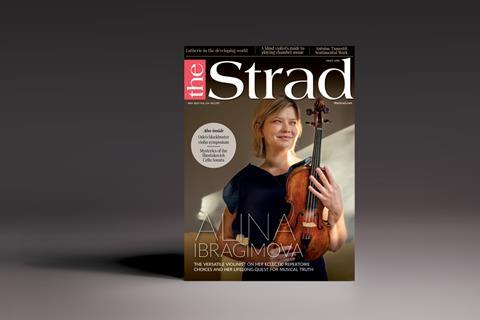 One of the marks of a great player is the ability to put the music before ego, but conversely (and almost paradoxically) also imbue the performance with their own distinctive character. The violinist Alina Ibragimova is one such artist: on a mission to find the musical truth in everything she turns her hand to, whether that's playing solo Bach, historically informed chamber music with her Chiaroscuro Quartet, or searing Shostakovich concertos. On page 26 she talks to Jessica Duchen about her influences and musical philosophy.
Playing in an orchestra or string quartet can be challenging enough, but what do you do if you can't see? Myra Ross is a passionate amateur violist and violinist who is also blind. On page 40 she writes eloquently about her experience as a blind string player and reveals the tools and strategies she has in place that enable her not only to play successfully in orchestras, but also to hold her own within a string quartet.
Another aspect of the strings profession is explored by Davina Shum, The Strad 's own online editor and a professional cellist, who on page 23 is of the opinion that 'depping' – deputising for a regular member of an orchestra or band, often with little or no rehearsal – is one of the best ways to develop sound musicianship, despite being one of the most nerve-racking things to do as a musician.
And on page 34, Peter Somerford writes about Luthiers sans Frontières, a charity that, for more than 20 years, has been teaching instrument making and repairing skills in parts of the developing world. In countries such as Haiti and Malawi, with so many social and economic challenges, lutherie may initially seem like a luxury enterprise, but as well as creating employment, it brings essential support to the music programmes that enhance the lives of people in some of the world's poorest communities.
Emma Baker editor
Email me at thestrad@thestrad.com or tweet @TheStradMag