Violist Timothy Ridout reflects on his ideal working conditions surrounding his new recording of arrangements of Schumann and Prokofiev, as well as how he mimics word-settings on his instrument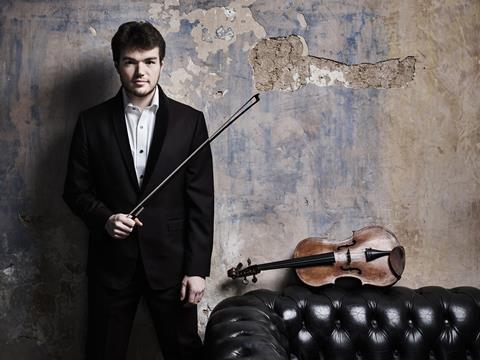 The following extract is from The Strad's July issue Session Report on Timothy Ridout's recording of Schumann and Prokofiev. To read it in full, click here to subscribe and login. The July 2021 digital magazine and print edition are on sale now.
'In general,' says the British viola player Timothy Ridout, 'the way I like to work – with practising, recording and everything – is not to spend three hours banging my head against a wall, but to spend an hour and a half or two hours maximum and then to take a break. I'm happy to work all day and right into the night, but I need that kind of reality check every once in a while to reset things mentally and physically.'
Read: Life Lessons: Timothy Ridout
Watch: Martinu's Three Madrigals at the Bromley & Beckenham Festival
Conditions were ideal, then, for recording the multiple short movements of his latest album in July 2020 at music venue La Courroie, a converted factory with artists' accommodation near Avignon in the Provence region of France. The album pairs Schumann's song cycle Dichterliebe, in Ridout's own transcription, with Vadim Borisovsky's arrangement of movements from Prokofiev's Romeo and Juliet suites. His third album as a headline artist, it is his first for Harmonia Mundi, and also his first with pianist Frank Dupree, a regular recital partner.
'Our producer Alban Moraud worked so hard. He would get up and be doing things before us. He would be happy to record until midnight and would still be listening back and double-checking things after that. Having that sort of freedom – of recording from 9am until midnight – meant we could take breaks and swim in the river for 15 minutes between takes as it was getting really hot. That was the only downside of being in a beautiful place in the south of France: the temperature was almost unbearable at points. Having a river a three-minute walk away was a life saver.'
There is a personal link in the choice of pieces, too. 'As a kid, I sang more than I played the viola. It wasn't really until I was 14 or so that I flipped to focus more on the viola. And of course I never sang the Dichterliebe cycle as a twelve-year-old! But it is music I listened to a lot and a few years ago it occurred to me that the register would fit the viola so well. The sixth song, 'Im Rhein, im heiligen Strome', fits perfectly on the C string, to encapsulate the lower registers of the male voice. Other songs, like the first one, 'Im wunderschönen Monat Mai', I play in the higher octaves on the D or A string. It was really interesting playing around with the vocal register and trying to fit that to the viola.'
To come up with a recorded version, Ridout spent time alone working out how to mimic or adapt the word-setting for his instrument, and how to introduce variation where the music returns with different words. 'Singers have so many consonants and vowels,' he explains, demonstrating the extravagant w's, r's and h's of the song titles just mentioned. 'I can't replicate all of those exact sounds, but actually there are so many different ways to start and develop notes that it was a kind of juggling act: working out how to slur and articulate things. I tried not to get bogged down too much in word-by-word details, but to get the picture of what each song is about, and to capture the fragility and devastation in the different songs.'
This article was published in the July 2021 Carlo Bergonzi 'Baron Knoop' issue

Micro-CT scanning technology reveals the secrets of the 1735 Carol Bergonzi 'Baron Knoop' violin. Explore all the articles in this issue . Explore all the articles in this issue

More from this issue…