Violinist August Hadelich, cover star of The Strad's April 2019, issue, has built a reputation for musically astute interpretations in wide-ranging repertoire. He speaks to Chloe Cutts about his latest recording - a pairing of Brahms and Ligeti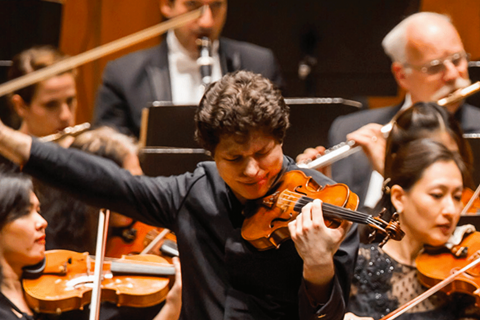 The following extract is taken from The Strad's April 2019 issue, available to download here. To order the print edition, click here
Augustin Hadelich has an enquiring mind and an engaging personality, qualities that come across in abundance in his violin playing. Turning 35 this month, he has entered the upper stratum of virtuoso violinists, having distinguished himself as a captivating and profoundly musical player capable of drawing the most deliciously honeyed tone from the 1723 'Kiesewetter' Stradivari violin he has on loan.
His gifts netted him the gold medal at the 2006 International Violin Competition of Indianapolis, which brought him to wider attention, and he went on to win a Grammy for his 2014 recording of Dutilleux's violin concerto L'arbre des songs , with Ludovic Morlot and the Seattle Symphony, and the inaugural Warner Music Prize in 2015, releasing his label debut of Paganini's Caprices the following January.
In September 2018 he completed his second disc for Warner Classics (released this month), this time joining Miguel Harth-Bedoya and the Norwegian Radio Orchestra at the NRK Radio Concert Hall in Oslo in the Brahms and Ligeti violin concertos.
Juxtaposing 'the Romantic Brahms and the recovering avant-gardist Ligeti', as Hadelich characterises these works, throws both into stark relief and alters the way we listen to them, and there are other similar pairings in his discography – of the Sibelius and Adès concertos, the Mendelssohn and Bartók no.2, and the Tchaikovsky and Lalo.
But the violinist says he also wishes in each case to reveal the 'striking parallels and connections', which in the case of Brahms and Ligeti includes the tradition of Hungarian folk music and the use of Renaissance counterpoint.
This is not a piece where the violinist can do their own thing and expect the ensemble to follow.
The ways in which Brahms and Ligeti integrate soloist and ensemble in their violin concertos make for an interesting point of comparison.
In Ligeti's wildly idiosyncratic take on the form, composed between 1989 and 1993, soloist, conductor and chamber orchestra must work together with great care to convey what amounts to a career retrospective in sound.
Here, the composer's early avant-garde preoccupations with natural harmonics and colour, and the alternative tuning systems he explored in the 1982 Horn Trio, rub against the faraway sounds of Renaissance choral music and folk styles both Hungarian and Asian (those mystical-sounding ocarinas).
'This is not a piece where the violinist can do their own thing and expect the ensemble to follow,' says Hadelich, with some understatement. 'Everyone must follow the conductor's sense of timing because the piece requires strict metronomic precision. When a section starts to go off-kilter things can quickly fall apart.'

Read the exclusive interview in The Strad's April 2019 issue, available to download here. To order the print edition, click here