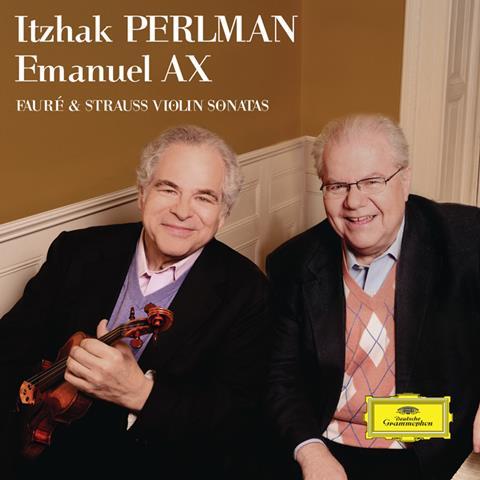 THE STRAD RECOMMENDS
The Strad Issue: December 2015
Description: Two lifetimes' experience shines through in these players' first studio meeting
Musicians: Itzhak Perlman (violin) Emanuel Ax (piano)
Composer: Fauré, Strauss
There are a number of Romantic violin sonatas that work well together in a pairing, by dint of either their similarities or their contrasts. Those of Fauré and Strauss, however – appearing together on this first duo recording by Itzhak Perlman with Emanuel Ax – provide both.
The Fauré, elegantly drawn despite its generally unwieldy structure, and the Strauss, with its innocent and enthusiastic lyricism set within a more traditional construction, are perfect prisms through which to see the infinite variety of colours and the quiet, understated experience of these two great players. Furthermore, that they are a hitherto unrecorded combination – despite a lifetime of duo playing – is an added bonus for this disc, released alongside some major reissues of Perlman's older recordings to celebrate his 70th birthday. But, most of all, these performances are bathed in the warm light of two performers of incomparable musical depth and worldliness.
The performance of the Strauss is particularly skilful. Although it is not as cleverly detailed a piece as the Fauré, Perlman and Ax nevertheless bring out its almost vocal melodic lines with such maturity that its phrases and harmonic language make sense in a way that in many recordings sounds simply jarring and, at times, clumsy. In both performances, too, the sound production is particularly clean and luminous, steering so far clear of pushing the piano into the background as to create a balance between Perlman and Ax that is less soloist and accompanist and more balanced chamber duo. This minutely crafted performance will be one not only to value but to revisit.
CAROLINE GILL