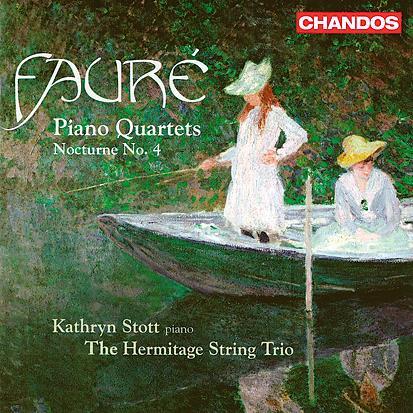 The Strad Issue: January 2010
Musicians: Hermitage String Trio, Kathryn Stott (piano)
Composer: Fauré
Gabriel Fauré was an emotionally reserved figure of exquisite taste and eloquence, and always insisted that his music should be played absolutely straight if his immaculately crafted scores were to achieve their maximum effect. This is something that Kathryn Stott, one of the most outstanding of Fauréans, demonstrates to skin-tingling effect throughout this outstanding disc.
She could hardly have wished for more sympathetic and responsive partners than the members of the outstanding Hermitage String Trio. In the six years of its existence – 1982 Paganini Competition winner and London Philharmonic Orchestra (LPO) leader Boris Garlitsky joined founding members Alexander Zemtsov (LPO principal viola) and distinguished cellist Leonid Gorokhov in 2008 – this fine ensemble has?established an international reputation for its virtuoso ease and musical integrity. Fauré's Schumannesque string writing is not the most eloquent or idiomatic of the 19th century, yet these outstanding Russian players aerate and clarify even the most potentially opaque of timbres, and eloquently hint at darker undercurrents flowing below the music's exquisite surfaces. They invest even the most urbane of phrases with a gentle espressivo intensity that captures the music's tantalising restraint to perfection. Even by Ralph Couzens's high standards, the engineering is exemplary, combining warmth, detail and?weight to?perfection.


JULIAN HAYLOCK