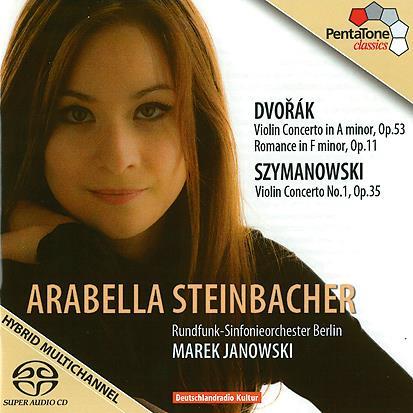 The Strad Issue: January 2010
Musicians: Arabella Steinbacher (violin) Berlin Radio Symphony Orchestra/Marek Janowski
Composer: Dvorák, Szymanowski
Dvo?ák's Violin Concerto is neither particularly gratefully written for the instrument, nor for much of the time very comfortable in its creative skin. While the musical influence of his friend and supporter Brahms was often of considerable benefit, here Dvo?ák attempts to impart a symphonic thrust and muscle to material that has a tendency to buckle under its own expressive weight. That said, when it is played with the impassioned advocacy and wide-eyed enchantment of Arabella Steinbacher, any potential awkwardnesses are quickly forgotten. She may not quite possess the outsize musical personality of Isaac Stern (Sony) and Itzhak Perlman (EMI), yet by never pressing the music too hard and moving with disarming naturalness from one event to the next, the music unfolds with an ease and inevitability rarely encountered in this particular work. Dvo?ák's finest accompanied violin piece (by some distance) is the F minor Romance, and here Steinbacher's plaintive sincerity scores an emotional bull's-eye.
The star performance, however, is the Szymanowski. Rarely has the composer's magical ear for instrumental sonorities sounded so beguiling on disc (especially when the SACD surround track is activated), and Steinbacher responds with playing that is both sensually alluring and headily impassioned. Where others have struggled to make sense of Szymanowski's semantically remote sound world, Steinbacher soars aloft with supreme confidence.


JULIAN HAYLOCK