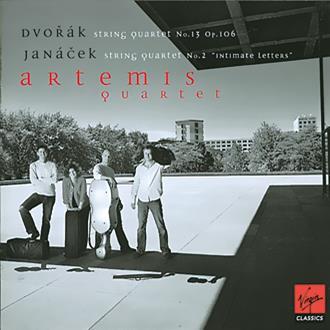 The Strad Issue: January 2007
Musicians: Artemis Quartet
Composer: Dvorák, Janácek
This a stirring performance of the G major Quartet, composed in 1895 to celebrate Dvo?ák's return to Prague from the United States. What impresses most about the Artemis Quartet's energised approach is its consistency: throughout, its reading is gritty and passionate. Despite the pastoral underlay, the musical argument is always forceful, even stormy (with shades of late Schubert), and the players bring to it an aptly compelling sense of urgency.
Their visceral playing reveals full-blooded, dark textures: at times in the protracted first movement this feels more like a quintet, or a sextet. Dvo?ák explores a wide range of contrasting moods, all cunningly and imaginatively differentiated. The inner parts' counterpointing is impressively assured, and some fine details of portamento are particularly effective.
The achingly beautiful Adagio non troppo, with its mysterious, hymnic opening, is poignantly captured. A sense of tragedy is never far from the surface, and the intensity of the playing brings this out admirably, not least from the group's cellist Eckhart Runge, although a reverberating string occasionally distracts. The Scherzo is buoyant and relaxed, with some nicely fretful contributions from viola player Volker Jacobsen. The trio has a charming serenity, and some rustic instrument effects lend cheerful colour later on.
Janá?ek's 'Intimate Letters' Quartet receives quite an anguished treatment: more bitter struggle than intimate communion. It's a forceful reading, tense and compelling, with a strong sense of forward momentum. The recorded sound feels just slightly on the harsh side.
Roderic Dunnett