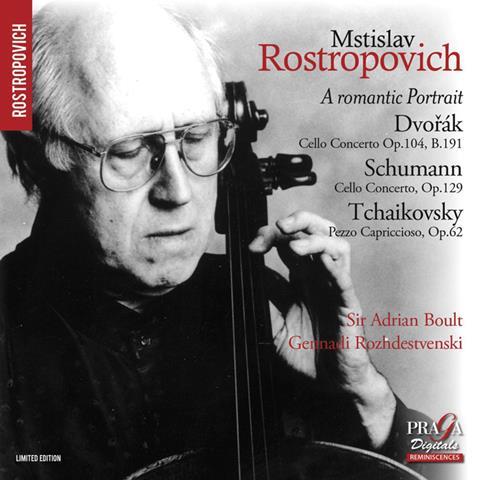 The Strad Issue: October 2015
Description: Rostropovich's fine concerto recordings remastered in high-definition sound
Musicians: Mstislav Rostropovich (cello) Royal Philharmonic Orchestra/Adrian Boult; Leningrad Philharmonic Orchestra, USSR State Symphony Orchestra/Gennady Rozhdestvensky
Composer: Dvorák, Schumann, Tchaikovsky
Here are two of Mstislav Rostropovich's best concerto recordings. The 1957 Dvorák, from Abbey Road Studio 1, improves onhis effort with Talich and is better conducted than those with Karajan, Rachlin and Giulini. Boult gives him room to emote but keeps the music on the move. The central outburst in the Adagio is splendid, as is the rhythm at the start of the finale, where the soloist does not rush. The wind playing is wonderful and Rostropovich plays tenderly in slower passages. He does not employ much colour but, with such tonal resources, does not need to: his control of dynamics is supreme. The endings of both Adagio and finale are memorable.
The Schumann was recorded in Wembley Town Hall during the Leningrad orchestra's 1960 London visit. Rostropovich had been playing it for only four years and his interpretation was still fresh. He makes a thoughtful entry and, allowing for changes of tempo, maintains his ruminative stance. Transitions between movements are ideal: in the Langsam, he is inward and passionate by turns, with sublime double-stopping. In the finale, he displays rhythmic élan but also sensitivity. Time stands still in the cadenza yet the thread is not lost.
Like Rostropovich's mono studio recording, the 1964 live stereo Tchaikovsky is not really capriccioso, though it is brilliantly played.
TULLY POTTER