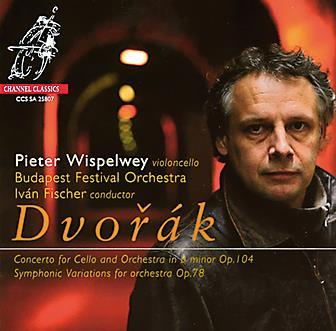 The Strad Issue: January 2008
Musicians: Pieter Wispelwey (cello) Budapest Festival orchestra, Iván Fischer (conductor)
Composer: Dvorák
During these hard-pressed financial days it's a luxury to re-record the same concerto as Wispelwey has done with this work. His first, made with Lawrence Renes and the Netherlands Philharmonic Orchestra (Chandos), is spontaneous and natural, offering a straightforward view of the work. Here, in this beautifully recorded live performance, Iván Fischer imbues the orchestral writing with many more shades of nuance and rhythmic finesse, while Wispelwey's 1760 Guadagnini offers his already poetic playing more timbral scope with its glorious response.
However there are also drawbacks. Some of the chosen tempos are a little on the slow side, not least the opening of the finale, which needs to have the flavour at least of dancing, and the poco meno mosso section in same movement is inordinately slow. Equally the tempo for the Adagio feels a shade too ponderous – it is marked 'non troppo' after all – although the movement is full of sumptuous playing.
It can be difficult effecting a judicious balance between detailing some of the numerous interesting orchestral moments while maintaining impetus, particularly as the score is intricate. Yet this well-rehearsed partnership, where all rubatos are finely honed and immaculately together, perhaps misses the ingredient of infectious simplicity and spontaneity that graces Jean-Guihen Queyras's outstanding recording with the Prague Philharmonic and Ji?í B?lohlávek (Harmonia Mundi).
Joanne Talbot