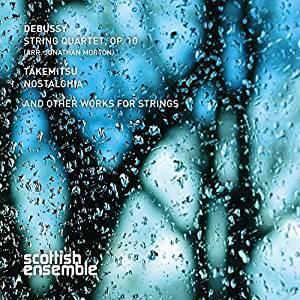 The Strad Issue: October 2016
Description: Debussy's Quartet and miniatures writ large, and Takemitsu's film music
Musicians: Scottish Ensemble/Jonathan Morton (violin)
Composer: Debussy, Takemitsu
Catalogue number: LINN CKD 512
I tend to be sceptical about performances of string quartets that involve more than four players; the few places that gain from the increase in weight and volume usually don't compensate for the loss of intimacy and lightness elsewhere. Of course, there are exceptions to the rule (such as Rudolf Barshai's arrangement of Shostakovich's Eighth Quartet), and obviously some pieces lend themselves more than others to being adapted for larger forces. Debussy's Quartet works well, especially in this nicely nuanced performance, which – helped by the beautifully warm quality of the recording – balances the soaring melodies against the sophisticated accompaniments without any part needing to be forced in order to be heard (and with several players to each part, some uncomfortable chords cease to be a problem).
In such arrangements, the double bass can end up as the proverbial fifth wheel, but here it is used to touch up selected sections. The instrument comes appropriately to the fore in Jimbo's Lullaby, deliciously arranged by the Scottish Ensemble's bassist. Conversely, I can't really warm to the blurred contours of Colin Matthews's take on Debussy's The Girl with the Flaxen Hair. Takemitsu's pieces find him convincingly doing a Bernard Herrmann and a Piazzolla before doffing his cap to Andrei Tarkovsky in Nostalghia. Morton takes the limelight for this piece, premiered by Menuhin, phrasing the various cadenza-like sections and solos most eloquently.
Carlos Maria Solare