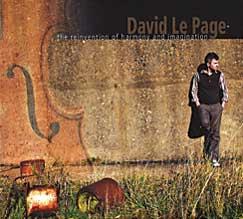 The Strad Issue: January 2014
Description: A diverting but diffuse mix of quasi-Vivaldi, Minimalism and jazz
Musicians: David Le Page (violin/viola) Nick Stringfellow (cello) Meherban Gillett (double bass) David Gordon (harpsichord) Graham Instrall (percussion)
Composer: David Le Page
As well as leading the Orchestra of the Swan, an adventurous chamber orchestra based in Shakespeare's home town of Stratford-upon-Avon, British violinist David Le Page works as a composer, arranger and bandleader. This recording project, a chamber suite of his pieces, demonstrates his key influences and passions: Baroque showmanship, theatrical and film music, and improvisation. With its storm-effects opening followed by legato strings and harpsichord, The Reinvention of Harmony and Imagination immediately pins its key inspiration to the mast – Vivaldi's Four Seasons. From this Vivaldi-esque sound palette Le Page develops a jazz–Minimalist fusion that showcases his soloing ability and creamy tone – he plays an 1874 Jean-Baptiste Vuillaume.
With the accompaniment dominated by homogeneous string figures and use of production effects, the result feels like a sophisticated TV drama soundtrack. Le Page has a flair for melody, such as the high, yearning tune 'Passacaglia', that morphs into an overwrought piece of theatricality with Arvo Pärt-style chord-work. His arrangements are mostly tightly focused but where they are not – 'The Vision', at over six minutes – the charm of his diverse tunes wears thin. Good fun as it is, The Reinvention of Harmony and Imagination would have benefited from some judicious editing.
Tim Woodall