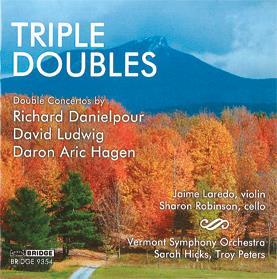 The Strad Issue: January 2012
Description: Three recent double concertos offer ample rewards to players and listeners
Musicians: Jaime Laredo (violin) Sharon Robinson (cello) Vermont Symphony Orchestra/Sarah Hicks, Troy Peters*
Composer: Danielpour, Ludwig, Hagen
These three double concertos were written for Jaime Laredo and Sharon Robinson, and sit well together here. All are lyrical and harmonically lush, but are varied enough to hold one's attention. Laredo and Robinson make the duetting seem effortless, conveying a sense that these are much-loved pieces being discovered anew. The Vermont Symphony under Sarah Hicks and Troy Peters plays with conviction and attention to detail.
Richard Danielpour's A Child's Reliquary (1999) opens with a long-spun duet by the violin and cello, which sets the scene for some lovely, floating interplay between the two, the orchestra drifting in and out. A playful and vivid second movement gives way to a lamenting yet still somehow feather-light Adagio, in which Laredo and Robinson come together in some gorgeously rich-voiced melodies.
David Ludwig's Concerto (2008) is more disparate, perhaps a little chaotic by comparison, but has a gripping energy. It's cast in five movements, and violin and cello each get a turn to dance alone in the second and fourth, the violin in the racing 'Calypso's Dance' and the cello in the romancing 'Iseult's Alba'. The drama builds in the final movement, with the violin and cello locked in driving rhythms together. Laredo and Robinson never let the intensity subside.
The final work, Daron Aric Hagen's Masquerade (2007), is sweetly lyrical without being sentimental. Orchestral sound throughout is very crisp and clear, and the soloists are well placed within the ensemble without being too far forward. All in all, it's a beautifully performed and enjoyable disc.



Catherine Nelson