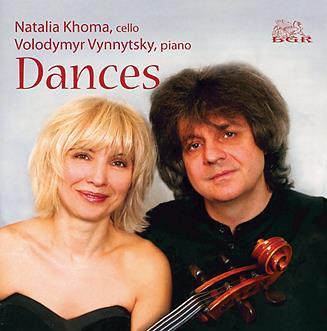 The Strad Issue: January 2007
Musicians: Natalia Khoma (cello) Volovymyr Vynnytsky (piano)
Composer: Cassadó, Granados, Vynnytsky, Brahms, Chopin, Bartók & Falla
There's plenty of attractive foot-tapping material here from the Ukrainian-born cellist Natalia Khoma. Most of the dances are transcriptions utilising virtuoso techniques, many of which are seeking to emulate the violin. Not surprisingly the majority of the arrangements come from the pens of prominent cellists, not least Piatigorsky, whose version of Falla's Danse rituelle is fun. Maurice Maréchal is the able arranger of the Suite populaire by Falla, which receives a feisty and highly charged interpretation.
Some of the transcriptions, however, are more awkward: Piatti laces the music with tricky octaves in his arrangement of Brahms's Hungarian Dance no.1. Despite her virtuoso technique even Khoma is a little wayward in this exposed passage. Valter Despal's arrangement of the Second Hungarian Dance is more idiomatic for the cello, but here Khoma overdoes the ritardandos in the first section which disrupts the musical pacing. This slightly erratic rubato also features in the Luigi Silva's arrangement of Bartók's Romanian Dances, particularly the opening movement, where the precise notation makes this unnecessary. Volovymyr Vynnetsky's own composition Lost Tango is effective, inevitably perhaps owing much to Piazzola, but it slots into the programme effortlessly and is given a spicy rendition.
The production of the CD, however, leaves much to be desired, with a rather reverberant recording. Bar biographies of the artists, booklet notes are non-existent. Even the listings make no reference to any of the arrangers. Yet with well over half the programme coming into this category there is a lot to say about this art, not least the efficacy of the various solutions.
Joanne Talbot