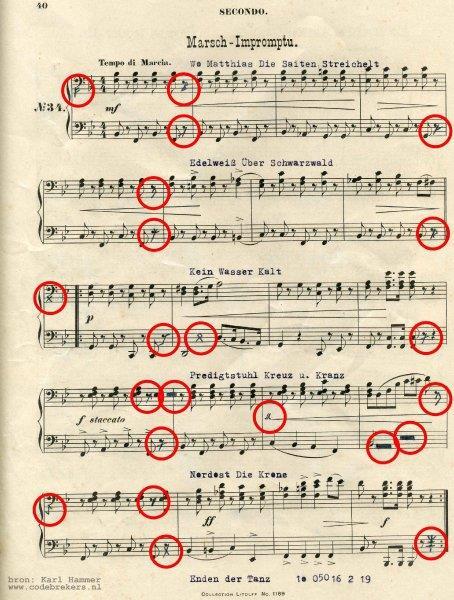 Mittenwald, the violin making hub in southern Germany, could be the last resting place of a cache of gold and diamonds belonging to Adolf Hitler, according to a Dutch film-maker. Leon Giesen, 51, has carried out three excavations in the Bavarian town and is seeking funding for a fourth, using clues he believes are hidden in a piece of sheet music (pictured).

The 'Marsch–Impromptu' by Gottfried Federlein was originally discovered by journalist Karl Hammer Kaatee among the papers of a late military chaplain. According to Kaatee, Hitler's private secretary Martin Bormann gave the music to the chaplain with instructions to pass it to Nazi Party accountant Franz Xaver Schwarz. As the accountant was arrested before the exchange could take place, the document remained with the chaplain until his death.

Among the additions to the music are the words 'Wo Matthias Die Saiten streichelt' (Where Matthias plucks the strings), which Giesen believes to be a reference to one of Mittenwald's most famous luthiers, Matthias Klotz. He also maintains that Bormann added a number of markings throughout the sheet music, which could bear a relation to the town's railway tracks and buffer stops. Finally, it is thought that Bormann left the Führer's bunker on 1 May 1945 as one of only two people who knew the whereabouts of the so-called 'Tears of the Wolf' – the treasure that was to have funded the activities of the 'Werwolf' terror group.

So far, Giesen claims to have found a large quantity of unidentified metals in his excavations. 'Geologists call it an anomaly, a substance that doesn't belong there,' he told Der Spiegel. He is seeking €25,000 in funding for his next dig.
Subscribe to The Strad or download our digital edition as part of a 30-day free trial.
Image: courtesy Karl Hammer Kaatee