The German foundation holding the instrument has failed to pay €100,000 compensation to the heirs of its former owner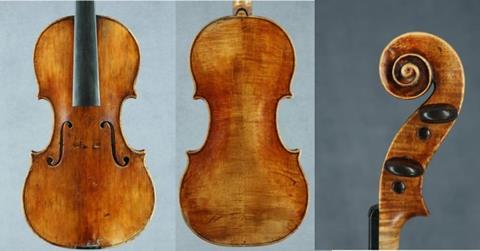 The German commission set up to advise on art objects stolen by the Nazis has warned a Nuremberg-based foundation to abide by a ruling made five years ago, in connection with a 1706 Guarneri 'filius Andreae' violin. The so-called 'Limbach Commission' stated that the Hagemann Foundation had not paid €100,000 to the heirs of Felix Hildesheimer, as agreed in 2016. The instrument is still in the foundation's care.
Hildesheimer, a Jewish violin dealer, is said to have acquired the violin in January 1938, but committed suicide a year later. In 1940 his wife was deported to France leaving behind their property, which was seized by the Gestapo and auctioned. In 1974 the instrument was bought in good faith by the Nuremberg-based violinist and tutor Sophie Hagemann. Upon her death, the violin became the property of the Franz Hofmann and Sophie Hagemann Foundation, founded in 2005. When it was being examined for restoration, Hildesheimer's name was found on the instrument, though almost indecipherable. In 2014 a descendent of Hildesheimer came forward, and the Limbach Commission assessed the case. It ruled that the foundation should pay the sum of €100,000, based on the violin's estimated market value (€150,000) minus the €50,000 it had already spent on repair work. The foundation intended to make the violin available to students at the Nuremberg Hochschule, as an 'instrument of reconciliation', and and promised that the young musicians who used it would perform a number of memorial concerts to commemorate Hildesheimer's life.
Read: The stolen instruments of the Third Reich
Read: Holocaust-era 'Violins of Hope' to be performed and exhibited in Cleveland
Read: Could Mittenwald be sitting on a fortune in Nazi treasure?
Now the commission has issued a rebuke to the foundation, which has 'to date not made the recommended compensation payments to the heirs in whole or in part'. The commission's statement also says that 'it cannot be seen to what extent the Hagemann Foundation has expressed its serious will to the supervisory authority to comply with the recommendation of the advisory commission. Other ways of raising the compensation have also not been pursued with the necessary effort. In addition, alleged new findings, according to which Felix Hildesheimer did not have to sell his business in 1937, but only in 1939, did not change anything in the assessment.' This is the first time in the history of the commission, founded in 2003, that it has issued such a statement.