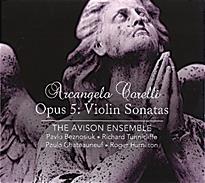 The Strad Issue: January 2013
Description: Colours abound in idiomatic performances of Corelli
Musicians: Avison Ensemble: Pavlo Beznosiuk (violin) Richard Tunnicliffe (cello) Paula Chateauneuf (archlute/guitar) Roger Hamilton (harpsichord/organ)
Composer: Corelli
In this second volume of the Avison Ensemble's project to record Corelli's complete chamber music, Pavlo Beznosiuk and his colleagues treat the twelve op.5 Sonatas not merely as unaccompanied duos for violin and violone/cello (with the option of substituting a harpsichord for the latter), but constantly ring the changes by including an organ, archlute and guitar in the instrumentarium. A true kaleidoscope of colours results.
These discs have all the virtues expected of the Avison brand – an exemplary recording with immediacy and presence and idiomatic, thoroughly polished performances with laudable improvisational flair, internal rapport and blend. Additional ornamentation is supplied in abundance, the stylised dances are sharply characterised, and the voicing of the polyphonic movements is crystal-clear. Tempos are generally carefully determined, even if the Gavotta of no.10 seems somewhat pedestrian at the outset. But there is good reason: Beznosiuk's own additional variations are technically very challenging, matching those of Matthew Dubourg for the equivalent movement of no.11.
The pitching of A=392Hz may play tricks with some ears – indeed, there are moments of questionable intonation – but Beznosiuk applies expressive vibrato generously, heightening the emotional weight of phrases. His reading of the 'La Folia' variations is especially fluent, well paced and exhilarating.



ROBIN STOWELL