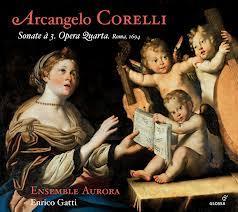 The Strad Issue: January 2013
Description: Performances that are full of spirit and tonal warmth
Musicians: Ensemble Aurora/Enrico Gatti (violin/director)
Composer: Corelli
Ensemble Aurora offers graceful, lucid and spontaneously expressive readings of Corelli's final collection of trio sonatas op.4, dispatching the varied movements with light, shapely articulation and a virtuosity and panache that are inspiriting. Violinists Enrico Gatti and Rossella Croce match appropriately in tone and idiom, conversing in expressive dialogue that is most affecting. Their contribution is particularly winning in the serious Preludio movements, most notably in nos.3 and 8, where they milk the suspensions to the full and are underpinned by some inventive harpsichord or archlute continuo accompaniments. The Graves of nos.9 and 10 are similarly striking, and most of the courtly dances are sharply characterised, particularly the Allemanda of no.6 and the Corrente of no.1, the latter enhanced by subtle interior shaping and dynamic contrast. The set's four Giga finales, however, seem underplayed.
Stylish ornamentation is added where appropriate, and with apparent spontaneity, notably in the repeated sections of the Allemanda of no.2 and the Preludio of no.12, and Gatti's own doubles for the Gavotta of no.5 are effective idiomatic additions. Interestingly, these well-balanced, resonant recordings follow Roman tuning practice – about a tone lower than modern pitch – and the consequent lower string tension adds warmth and opulence to the sound.
ROBIN STOWELL