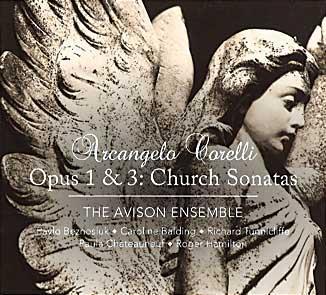 The Strad Issue: January 2014
Description: A fine conclusion to a tercentennial survey of the Baroque master
Musicians: Avison Ensemble
Composer: Corelli
I wrote positively about the previous releases in this 300th anniversary series (see The Strad, June and October 2013), and this final issue sustains all their virtues. The Avison's playing is substantially accurate, accomplished and free from misplaced mannerism, displaying appropriate vitality and panache as well as grace and flexibility. The players' refined musicianship and unanimous interaction draw one into the sensibility of the period, giving their accounts a reassuring sense of fluent inevitability. The church recording is close, yet never astringent. However, the balance is inevitably contrived, with the violins and larger-than-life archlute much in the foreground.
Listeners will be captivated by the spirited interchanges between these players, the voicing and spontaneity of their contrapuntal interplay and the neatness of their articulations, particularly in the numerous fugal and dance-inspired movements. Violinists Pavlo Beznosiuk and Caroline Balding take the lion's share of the melodic interest, but bass violinist Richard Tunnicliffe and archlutenist Paula Chateauneuf clearly enjoy contributing to the dialogue. Tunnicliffe's agility is especially notable in both allegros of op.3 no.1, as is Chateauneuf's in the exhilarating fugal Allegro of op.3 no.5.
The unassuming eloquence and expressiveness of the slower music will also enchant. Melodies are sweetly sung with pliant phrasing, due weight is given to adventurous chordal progressions and the ubiquitous chains of suspensions are nurtured with messe di voce and a little vibrato. Relevant cadences are embellished and other affecting extempore ornamention is added as appropriate. Sir John Hawkins's comment (1776) that op.3 no.9 'has drawn tears from many an eye' continues to ring true.


ROBIN STOWELL