Brian Hodges and Diana Allan answer student questions on coping with stage fright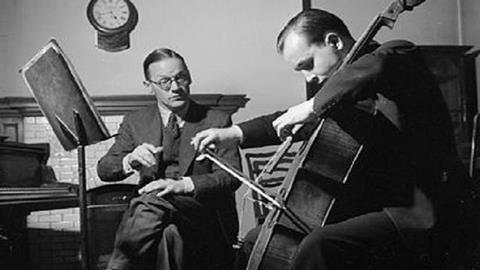 The dilemma How can I become more comfortable during lessons, to not fear failure?
It's natural to feel nervous with your teacher. Your teacher is your mentor and it's OK to want to please him or her. There's a high level of trust implicit in the relationship between teacher and student and it's important to keep it all in perspective.
Your lessons are where mistakes should be made. When you make mistakes in your lessons, your teacher can quickly recognise what's going on and help you. (Of course, this is presupposing you've done the necessary preparation and practice!) Your whole career of learning will be a series of ups and downs, mistakes and successes. Some of the best lessons I can remember were where I felt I had reached an impasse, brought it into my teacher, and she helped unlock the barrier. In most cases, your teacher has been there/done that, so your concerns and fears are probably not as unique as you think.
Lessons with your primary teacher are a place for training and guidance. It's easy, however, to take constructive criticism and instruction and twist it into condemnation and judgment. Although your teacher may seem demanding and have high expectations for you and your performing, it doesn't have to be at the expense of your self-esteem unless you let it. Remember, your teacher is there to provide valuable feedback; he or she is on your side.
I would recommend talking with your teacher and sharing your concerns. Ask questions about his or her career. If not offered already, ask specific questions about how to practice or prepare something more specifically. Opening up the conversation can work wonders to alleviating fears.
Do you have a burning question about stage fright? Email us at thestrad@thestrad.com and we'll put your question to experts Brian Hodges and Diana Allan.
Read: Release the Fear Monster: how to conquer anxiety and perform at your best
Read: Conquering performance nerves: how do I control my fear of failure?
Read: Conquering performance nerves: how do I banish sweaty hands and nausea?
Read: Conquering performance nerves: I'm great in practice but don't perform so well on the day
Read: Conquering performance nerves: how can I warm up my stiff, cold hands?
Brian Hodges is an active soloist, chamber musician and teacher. He is associate professor of cello and coordinator of chamber music at Boise State University in Boise, Idaho. He is the principal cellist of the Boise Baroque Orchestra and performs regularly with Classical Revolution: Boise, which has been featured at the Idaho Shakespeare Festival and live on the radio at Radio Boise. He can be reached at www.brianhodgescello.com.
Dr Diana Allan is associate professor of voice at The University of Texas at San Antonio as well as a certified peak performance coach. She works one-on-one with musicians to help them assess both their strengths and challenges and teaches them how to cultivate the mental skills that will enable them to break through the barriers that prevent them from achieving optimal performance. Her website, Peak Performance for Musicians has a readership from 170 countries.
Brian and Diana presented a session on this topic at the 2016 American String Teachers Association conference. The 2017 conference takes place from 1-4 March 2017 in Pittsburgh.