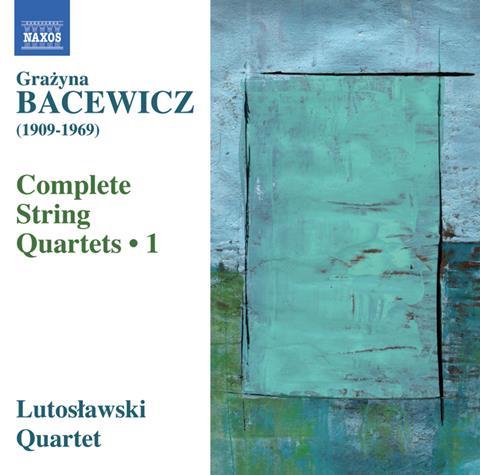 Description: Poles together: the Lutoslawski Quartet embarks on a Bacewicz cycle
Musicians: Lutoslawski Quartet
Composer: Bacewicz
The seven string quartets of Polish composer GraŠ¼yna Bacewicz (1909–69) have been called the 20th century's most significant contributions to the genre after those of Bartók. It's a big claim – but on the strength of these hugely accomplished, vivid accounts from her compatriots the Lutoslawski Quartet, beginning a complete Bacewicz quartet cycle, it's one that's worth taking very seriously. Indeed, it's a wonder that these works aren't a staple in the chamber canon.
The Lutoslawski players plunge us straight into the jagged dissonance of the Sixth Quartet (1960) before showing us where it all came from with the Parisian elegance of the First (1938) and Third (1947), then stretching musical possibilities even further with the special effects-laden Seventh (1965). Even against Bacewicz's rapidly evolving style, though, it's hard to imagine more assured, technically accomplished performances. The Lutoslawski foursome play as if they've known this music for decades, with an enthusiastic sense of storytelling and impeccable technical prowess.
In the Seventh Quartet, for example, they superbly balance and blend Bacewicz's extraordinary textures – combining ricochets, harmonics, tremolos and col legno tappings – and they revel in the extrovert, Adams-meets-Britten Third Quartet, with a hint of salon sophistication in its nonchalant finale.
Rhythms are crisp and brisk but never hurried, phrases are shaped with eloquent directness, and ensemble is well-nigh faultless, even with Bacewicz's frequent switchback changes of gear. These are highly persuasive accounts of arresting, unfairly neglected repertoire, captured in intimate, warm recorded sound.
DAVID KETTLE