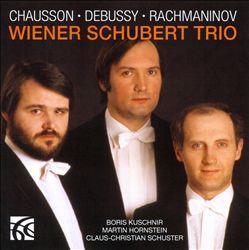 The Strad Issue: January 2012
Description: Revelatory and benchmark recordings from a vintage trio
Musicians: Vienna Schubert Trio
Composer: Chausson, Debussy, Rachmaninoff
Those of us lucky enough to have heard the Vienna Schubert Trio – violinist Boris Kuschnir, cellist MartinuHornstein and pianist Claus-Christian Schuster – during the relatively short period of its existence (1985–93), were invariably left stunned by the ensemble's compelling amalgam of Classical precision and impassioned musicianship. Anyone familiar with the noble eloquence of Decca's series of piano-led classics with Walter Panhoffer and members of the original Vienna Octet will have a good idea what to expect here.
A few months ago Nimbus made the first commercial release of the Trio's sublime 1991 recording of the Schubert piano trios. It has now followed it up with this glowingly engineered Franco–Russian programme recorded in Haarlem in the Netherlands back in 1986. All three trios are early works – if Chausson's looks forward to the highly scented Wagnerian chromaticisms (via Franck) of his mature music, Debussy's is fuelled by the same sense of enchantment and wonderment familiar from his Petite Suite. At nearly 50 minutes the Rachmaninoff is nearly as long as the other two trios combined, and is redolent of the doom-laden angst that would climax in his First Symphony (tellingly cast in the same key).
The Vienna Schubert Trio's fastidious attention to detail, malleable phrasing and velvety sound world are tailor-made for the Debussy and Chausson (both have never sounded finer on disc). Yet the revelation here is a performance of the Rachmaninoff that exchanges the delirious intensity of the Kogan–Luzanov–Svetlanov classic (Melodiya) for a cultivated poise and affection that is no less deeply moving.
JULIAN HAYLOCK