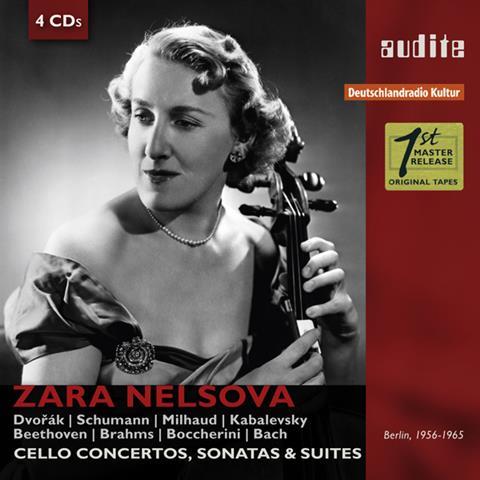 The Strad Issue: January 2016
Description: Collected performances by a legendary Canadian cellist
Musicians: Zara Nelsova (cello) Artur Balsam, Lothar Broddack (pianos) Berlin Radio Symphony Orchestra/Georg Ludwig Jochum, Gerd Albrecht
Composer: Bach, Beethoven, Boccherini, Brahms, Dvorák, Kabalevsky, Milhaud, Schumann
The greatest cellist to come out of the Americas (see 'Great Cellists', September 2015), Zara Nelsova (1918–2002) was at her peak when these Berlin Radio recordings were made, mostly in 1959–60. Always adequate, the mono sound quality varies from fair to good; but the studio microphones pick up more fingerboard noise than usual, especially in the three Bach solo Suites. These are played conversationally (D minor), more extrovertly (C major) and dramatically (D major). Courantes are quite fast, sarabandes intense, and minuets, bourrées and gavottes elegant. The expansive D major Allemande is a highlight.
The Dvorák, Schumann and Milhaud (no.1) concertos gain from skilled conducting by the younger Jochum. Dvorák's rhythms are accurate and the orchestra handles the tuttis well, with good solos, although the clarinet is a bit thin. Nelsova plays with great command, but also immense feeling in slower passages. The Adagio and the end of the finale are very moving.
I have never before heard Nelsova in the Schumann. It is well shaped, with a lovely transition to the Langsam, which is lovingly phrased. She displays terrific technique in the finale, adding a mighty second cadenza. The Milhaud is delightful, with droll rhythm in the Nonchalant, beautiful tone – wonderfully dark in the Grave – and infectious high spirits in the jig-like Joyeux. Kabalevsky's First Concerto from 1965, with Albrecht, has the best sound and is most pleasantly played, with a genial finale.
In five works Nelsova is partnered by Lothar Broddack, a good musician with a rather personal keyboard style. The two Beethoven op.5 sonatas burst with life and Schumann's Fantasiestücke has warm tone and fine phrasing, with added virtuosity in the central Lebhaft. In Brahms's F major, the 1956 tape imparts a very slight tremulousness to Nelsova's tone but the performance is commanding, with Broddack at his best. Nelsova's gravely beautiful approach to the Adagio is most affecting and she has tremendous 'go' in the scherzo. Two sonatas have the superb Artur Balsam at the piano, Beethoven's op.102 no.2 similar to their very fine Decca version, Brahms's E minor beautifully balanced in ensemble and tempo, not too slow in the Allegro non troppo.
TULLY POTTER