The musician will retire from the Juilliard String Quartet after 42 years at the end of its current season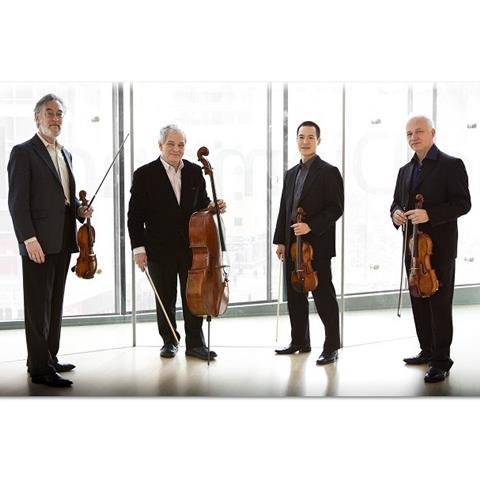 Juilliard String Quartet cellist Joel Krosnick (pictured, second left), who is celebrating his 42nd and final season with the ensemble, received the President's Medal, Juilliard School's highest honour, from president Joseph W. Polisi on Monday.
The ceremony took place following Krosnick's final performance with fellow quartet members, violinists Joseph Lin and Ronald Copes, and violist Roger Tapping in New York's Alice Tully Hall. The group was also joined by incoming Juilliard Quartet cellist Astrid Schween for a performance of Schubert's String Quintet.
'For 42 years, I have had the privilege of sharing great music and deeply meaningful relationships with the most serious and inspiring musicians and colleagues: violinists Robert Mann, Joel Smirnoff, Joseph Lin, Earl Carlyss, and Ronald Copes, and violists Samuel Rhodes and Roger Tapping,' writes Krosnick in The Juilliard Journal's February edition. 'From the moment I began to rehearse with the quartet, in May 1974, I have never looked back, only forward to each new challenge.'
Founded in 1946, the Juilliard Quartet is currently marking its 70th season with concert tours in North America, Europe and Asia. Krosnick's final performance with the ensemble will take place at the Ravinia Festival in June.
Read: How to produce a strong, uninhibited sound without pressure, by cellist Joel Krosnick