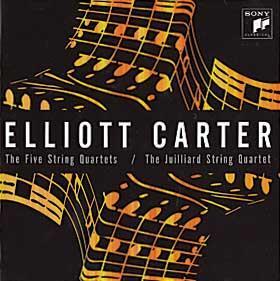 The Strad Issue: January 2014
Description: A masterly completion of a much-lauded cycle of quartet performances
Musicians: Juilliard Quartet
Composer: Carter
The Juilliard Quartet's recordings of the first four of Elliott Carter's thorny yet hugely influential string quartets have every right to be considered definitive – the Juilliard players worked closely with Carter on them, and they were performed and recorded according to the composer's wishes. Committed to disc in 1990–91 and reissued here, they've stood the test of time, with passionate, impeccable playing of enormous character, which feels the ideal match for Carter's rugged, uncompromising sound worlds. The musicians seem to survey wide expanses of tough landscape in the sprawling First Quartet, and the Third – in which the foursome is broken into two duos, playing unrelated and contrasting material – has each pair of players restricted to a separate audio channel, with admirably lucid results.

Sony's new two-CD set adds a 2013 recording of Carter's Fifth Quartet to the earlier four, and there are personnel changes, too, with Joseph Lin and Ronald Copes replacing Robert Mann and Joel Smirnoff on violins. It's a truly beautiful performance, both witty and poignant, and captured in close, analytical sound. The piece is inspired by quartet rehearsals, with the players mulling over material in between the movements, and the Juilliard foursome slip between the 'rehearsal' and 'performance' sections with nonchalant grace. No matter how stuttering or fragmented they are, Lin makes his upper lines sing, and Joel Krosnick is a fiercely rhythmic, assertive presence on cello. Despite Carter's unashamedly challenging writing, there are moments of sheer sonic beauty – the skittering pizzicatos that end the piece just one of many. Not only a vital historical document, this CD set also provides a thrilling, hugely rewarding experience.


David Kettle