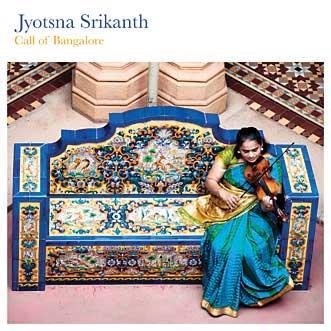 The Strad Issue: January 2013
Description: A masterclass in Carnatic violin playing
Musicians: Jyotsna Srikanth (violin) Patri Satish Kumar (mridangam) N. Amruth (khanjira)
Composer: Various
While its title makes a pun out of a feature of modern Indian life – the call centre, a Bangalore speciality – London-based Indian violinist Jyotsna Srikanth's trio album is firmly rooted in long-held music traditions. Well known as a jazz, fusion and Bollywood player, Srikanth is also a virtuoso performer of Carnatic music, the classical music of southern India (she is originally from Bangalore), which she demonstrates on this beautifully simple and intimate album.
With its traditional 'varnam' introduction followed by pieces including a sprawling 40-minute mainly improvised piece, Brovabarama, which dominates the album, 'Call of Bangalore' imitates the format of a live performance. Clever production, with the subtle use of a (presumably) over-dubbed second violin line and background drones, ensures the texture is never bare. Accompanied by just the double-sided mridangam drum and khanjira frame drum, Srikanth's violin is the sole melodic focus on the recording. Where this might make a lesser musician feel exposed, her absorbing playing and the lively interplay with the percussion bring alive the chamber music-like essence of this music. Under Srikanth's fingers, the very wide vibrato of Carnatic violin is richly evocative. Her playing has a sweet, fragrant tone, its uneven sliding phrases deepening the characteristic of a piece, whether on the oblique, alluring melody of 'Shobane' or during one of the album's extended improvisations.



Tim Woodall