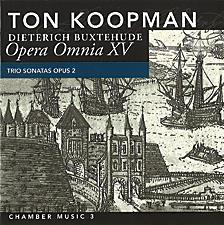 The Strad Issue: January 2012
Description: Spontaneous-sounding accounts of a varied set of trio sonatas
Musicians: Catherine Manson (violin) Paolo Pandolfo (viola da gamba) Ton Koopman (harpsichord/organ) Mike Fentross (lute)
Composer: Buxtehude
This latest release in Challenge Classics's Buxtehude Opera Omnia project comprises the seven trio sonatas op.2. Their multiplicity of formal and textural design, including fugal movements, dances, ostinato variations and quasi-improvisatory, 'stylus phantasticus' passages, more resembles the multi-sectional Italian sonatas of earlier generations than the already-established Corellian models.
The players here respond to Buxtehude's wide terms of stylistic reference with spontaneity, adopting flexible performing approaches appropriate for the juxtaposition of, essentially, prescribed improvisation and strictly regulated counterpoint. Catherine Manson and Paolo Pandolfo are well-matched melodic partners, notably in the Arietta variations of no.2, the energetic final ostinato section of no.6 and the colourful penultimate section of no.4. However, Ton Koopman occasionally departs from a continuo role to participate in their dialogue, as in the two crisply articulated fugal sections of no.1 (with harpsichord) or the first Allegro of no.7 (with organ).
The various dance-inspired sections are dispatched with due vitality, particularly the final imitative gigue of no.3. In no.5, Manson and Pandolfo each enjoy solo sections, which they infuse with remarkable virtuosity, expressive sensibility and rhetoric. Mike Fentross's lute accompaniment is reserved largely for slow sections such as the melancholy Grave of no.1. The recording is detailed, well balanced and subtly reverberent.
ROBIN STOWELL