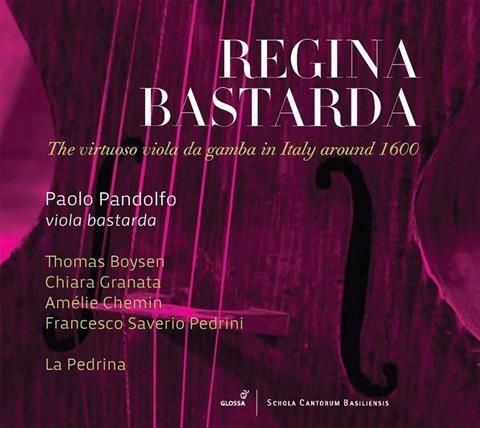 The Strad Issue: August 2019
Description: An attractive programme on instruments that are entirely legitimate
Musicians: Paolo Pandolfo (viola bastarda) Thomas Boysen (theorbo) Chiara Granata (double harp) Amélie Chemin (lira da gamba) La Pedrina/Francesco Saverio Pedrini (organ, harpsichord)
Works: Works by Bassani, Bonizzi, Crecquillon, Dalla Casa, Lasso, Ortiz, Palestrina, Rognoni, Rore, Sandrin, Virgiliano and Willaert
Catalogue Number: GLOSSA GCD 922519
There is no scandalous revelation implied in this CD's title: the viola bastarda – thus called because of its size between bass and tenor viol – was declared 'the queen of all instruments' by the composer and theoretician Francesco Rognoni.
The instrument's longer strings made it possible to wander across the registers from bass to treble, a performing practice that became known as playing 'alla bastarda' and had its apogee in Italy around the turn of the 17th century.
This was mainly an improvised genre, only a few dozen compositions having been preserved in written form. Almost all of them are based upon hit songs of the day, their polyphonic texture becoming the grid upon which performers displayed their virtuosity with progressively intricate variations.
The present recital, which is well recorded in the warm acoustic of a Swiss church, is the result of a research project at Basel's Schola Cantorum. Most instructively, each piece is preceded by the song upon which it is based, thus allowing one to comprehend the method behind the 'alla bastarda' practice, most forcefully when Cipriano de Rore's madrigal, 'Ancor che col partire', and Girolamo Dalla Casa's gloss upon it are heard simultaneously.
Paolo Pandolfo performs this most demanding music with the greatest aplomb, pure sound and clear articulation. Accompaniments are discretely coloured by the eerie chords of a lira da gamba in contrast with the more prominent plucking of harp and theorbo. In a delightful recital-within-a-recital, the all-male ensemble La Pedrina contributes finely tuned versions of the vocal numbers.
CARLOS MARÍA SOLARE