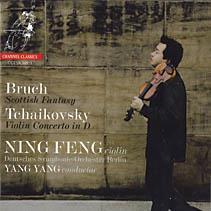 The Strad Issue: January 2014
Description: Performances that don't quite rise above the worthy
Musicians: Ning Feng (violin) Deutsches Symphony Orchestra Berlin/Yang Yang
Composer: Bruch, Tchaikovsky
Although conductor Yang Yang strikes just the right pulse and mood for the picture of an old bard that opens Bruch's Scottish Fantasy, the performance then fails to lift that sombre mood for the following Scottish folk song. It is a matter of phrasing and tempo, and if the difference between Ning Feng and Salvatore Accardo (Philips) is no more than a hair's breadth, it is a difference that turns a good account into one that is ideal. Technically, though, Ning's playing is always impeccable, and he brings a pleasingly lightweight agility to the finale.
With so many muscular performances of the Tchaikovsky Violin Concerto already in the catalogue, it is pleasing to welcome Ning's smooth and refined approach to the work's opening movement – even in the cadenza he imparts musicianship rather than outgoing virtuosity. My quibble comes with two exaggerated changes of tempo that become very irritating on repeated hearing. He has a laid-back approach to the central Canzonetta, and though it never lacks excitement, he avoids the usual hectic dash through the finale. Orchestral playing is reliable throughout, but the sound quality lacks the final degree of transparency.
DAVID DENTON